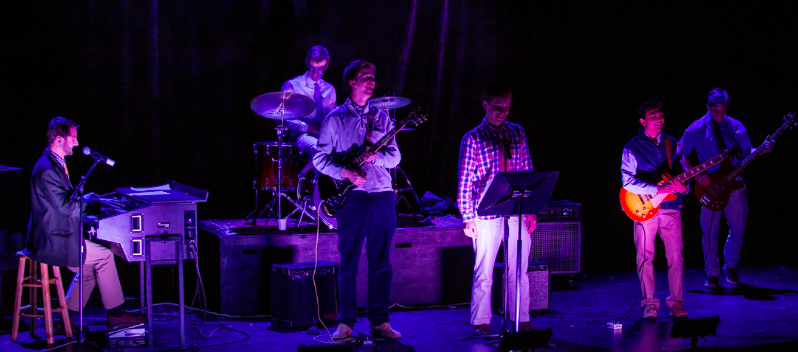 The Brunswick Upper School Spring Jazz Concert, held on Tuesday, April 8, moved naturally this year from classical Orchestra to the Jazz Band Quintet to the Blue Notes, whose jazzy, senior solo-strewn songs comprised the majority of the evening's music.
Directed by Mr. Paul Raaen, the GA/Brunswick Orchestra started the night off with a short collection of songs ranging from Frozen's "Let it Go" to the more classical "Palladio" (Karl Jenkins). The three flutes, four first violins, five second violins, two violas, two cellos, and the piano produced a clear yet full and swelling sound that did not change even as the song genre varied, proving the group's wide range.
Soon the second portion of the concert began with the Jazz Band Quintet's performance of four songs, culminating in "Chattanooga Choo Choo," an arrangement by the students that was unlike any of the other tunes performed. "The innovation of the members of the group was particularly impressive given their small number," noted Joey Jiménez, a Brunswick sophomore.
After the Jazz Band Quintet's performance, the jazz continued with the Blue Notes. Beginning with Duke Ellington's "C-Jam Blues" and ending with "Drummin' Man" by Krupa/Parham, the seventeen-person group was joined by Brunswick graduate Joe Hull, class of 2010, and Brunswick senior Emmet McElwreath for some of the numbers.
Alto saxophonist Alina Maki, Group X, loved "being able to showcase what we work on in class because we all work really hard to learn all of the music that we play." Although the songs featured numerous soloists, the focus of the night rested upon the five seniors. Tommy Hull, a Brunswick senior and a violinist in both the Orchestra and the Blue Notes said that his highlights were "the senior piece, "Strasbourg St. Denis" by Roy Hargrove, and "Minor Swing" by Django Reinhardt and Stéphane Grappelli. These two pieces were put together entirely on our own, and it was a great way to show off a bit as the leaders of the group."
With Mr. Paul Raaen as the director, the musicians seemed to enjoy the experience as much as did the concertgoers. Each group worked cohesively, and the smaller Jazz Band Quintet in particular demonstrated the members' strong ability to work off one another.
Hull notes that Mr. Raaen's inspiration and participation in the ensembles, "has brought a completely new perspective to my playing and interest in music…[and] a whole host of new genres…[giving me the opportunity] to work with people who are just as into music as [I am]…The tours to England and Germany/Austria have created some of our best memories of the group."
Maki added that she has grown more interested in jazz in particular "because it is so diverse and challenging to play."
And, if the recent Brunswick concert was any indication, it is both moving and memorable.