Taylor Mali Visits GA
On Tuesday,
April 15th, Greenwich
Academy welcomed performer, speaker, and poet Taylor Mali to campus. Thanks to the hard work of Upper School Head Mrs. Molly King, Middle School Head Ms. Becky Walker, and the Greenwich Academy Parents' Association, Mali did a full day of programming at GA.
He generously and performed assemblies for middle school and upper school students during the school day and an assembly for all GA faculty in the afternoon. In addition, he did workshops with middle school classes and the staff of Daedalus, GA Upper School's literary magazine.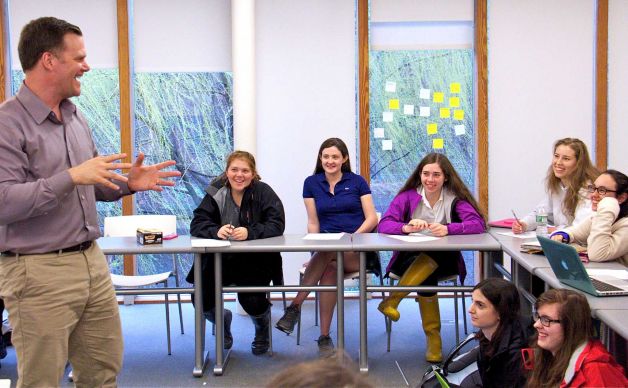 In the Upper Schoolassembly, Mali impressed students with his powerful slam poetry, although claiming not to be a "slam poet" himself. He emphasized that the creation of slam poetry was meant to underline the "creation of a noun, not an adjective."
His poems were both "informative and delightful," ranging from topics such as eighth graders to Pluto to Newtown. They encouraged his audience to think about the nature of education and theimportant role of educators. Mali's humor, too, both inspired us and made us laugh.
But at some points, it went a little awry. In his poem, "Miracle Workers," Mali stated patronizingly, "If two boys are fighting, I break it up. But if two girls are fighting, I wait until that sh*t's over and then drag what's left to the nurse's office."
Although many laughed at the joke, it seemed as though we were laughing at our own degradation. In my nine years at GA, I have only ever met the nicest of girls at the nurse's office and certainly never witnessed a fight.
Mali also singled out students from the audience, not to praise them, but to rebuke them. He called them out for speaking too softly, speaking too loudly, and messing up a mnemonic device for the nine (now eight) planets.
A private session held for members of Daedalus and others who had signed up further revealed Mali's strong and engaging, if slightly controversial, personality.
His passion for performance was evident. He possessed mastery over his tones of voice, crescendo and decrescendo while speaking with students, and animatedbody language. It was impossible for anyone in the room to tune out.
But at times his audience did not know what to make of his tone.
After thoughtfully taking the time to learn every girl's name, Mali inquired whether Daedalus currently had print manuscripts. He was handed a copy of last year's issue, which he began avidly flipping through. After a minute, he turned to a specific page and scrutinized it, his browfurrowing.
He showed the page tothe group of students, as an elementary school teacher would while reading a picture book aloud to his kids, and displayed a photograph of a sculpture that bled off the page of the magazine.
He expressed a problem with the page, and that whoever took the photograph croppedthe top of the sculpture out. Several girls lightheartedly defended the image, offering comments such as "Art is subjective," and "The rest of the corners of the sculpture are touching the very edges of the page as well, so that corner is probably not cut off."
Mali was adamant about retaining his opinion, and suddenly screamed, "I won't have it!", throwing the copy of Daedalus onto the floor furiously.
As he crumpled a shiny, untouched, and uncreased copy of Daedalus in a room full of girls who had contributed to it so dedicatedly only a year before, the room was practically silent.
Then Mali picked it up off the carpeted floor with a slight chuckle and said, "I'm just kidding." He was met with small, awkward laughs from his audience.
"I had mixed feelings about him," said Maxx Grossman, XI. "On one hand I really liked him and his poetry. He approached learning and writing in an interesting way. But on the other hand, he was very harsh in his commentary – to the extent where it was borderline offensive."
Grossman went on to say that her viewpoint of him was in no way related to his calling her out at the assembly for using the word "um" when asking a question.
Others considered Mali's advice laudable and enjoyed his visit thoroughly.
"I was so happy that he came," said Maddy Howe, IX. "I really liked the prompt he gave us to write and I wholeheartedly agreed with his advice, telling us to write about what we know and have experienced in our lives, rather than writing something just because it sounds pretty."