On February 18, Head of School Mrs. Molly King announced this year's commencement speaker.
Thanks to the Memishian family, Dr. Cynthia Breazeal, founder of the Personal Robots Group at the Massachusetts Institute of Technology's Media Lab, will speak at Greenwich Academy's 187th commencement ceremony on Thursday May 22.
Dr. Breazeal's interest in STEM-related fields, particularly robotics, began at a young age. According to her 2010 TED talk, she became "fascinated by this idea of personal robots" when she saw Star Wars for the first time.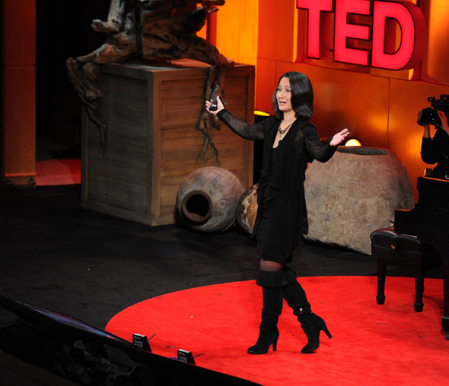 She wanted to have a robot that  "interacted with us much more like a helpful, trusted sidekick," but robots with this capability didn't exist. That's when she decided she wanted to build them herself.
In 1989, Dr. Breazeal received her Bachelor of Science in Electrical and Computer Engineering from the University of California in Santa Barbara. Four years later, she received her Masters of Science from MIT and continued on to receiver her PhD in Science in 2000. According to the MIT Media Lab's website, Dr. Breazeal focuses on, "developing the principles, techniques, and technologies for personal robots that are socially intelligent, interact and communicate with people in human-centric terms, work with humans as peers, and learn from people as an apprentice."
As part of her doctoral thesis, she created Kismet, the world's first social robot. Kismet has devices that allow it to hear, see, and perceive its surroundings. With systems that give it social cues, Kismet can simulate emotion through various facial expressions, speech, and movement.
Kismet's success prompted her to work with other universities, companies, and teams of students at the Media Lab to delve into the field of interpersonal robots. In her TED talk, she mentions that one interesting fact her team discovered was that if they "designed robots to communicate with us using the same body language… [and] nonverbal cues that people use…people respond to robots a lot like they respond to people."
Dr. Breazeal's ideas of how to use personal robots are not restricted just to conversation. One of her ideas, executed by Dr. Cory Kidd, was to create a robot that could assist someone in maintaining a healthy diet and exercise regimen. She thought that if a robot could be there to ensure that its user makes healthy choices, it might be easier for that person to manage their weight than it would be on their own.
To compare the effectiveness of a robot and a computer at helping someone lose weight and keep that weight off, researchers at the MIT Media Lab looked at the length of time that individuals interacted with the robots versus the computers. The results of the study indicated that the participants interacted more with the robots and trusted them more than the computers.
It is no surprise that Dr. Breazeal has won the National Academy of Engineering's Gilbreth Lecture Award, Technology Review's TR35 Award, and was featured in TIME magazine's Best Inventions of 2008.
When she is not doing research at the Media Lab, Dr. Breazeal works with multiple organizations that expose children to science and technology. She has been a judge for the FIRST Robotics Competition and is a part of the National Academy of Science's initiative entitled Women's Adventures in Science, which was made to make middle school aged girls interested in pursuing STEM related careers.
It seems fitting, considering GA's increasing emphasis on STEM-related areas, that an innovative scientist like Dr. Breazeal will address all present at GA's 187th Commencement.
For more information about her work, visit www.web.media.mit.edu/~cynthiab/.