GA Welcomes Five Students from Buenos Aires
After the stressful week of midterms, Greenwich Academy excitedly welcomed a group of five exchange students from the bilingual Northlands School in Buenos Aires, Argentina. Jazmin Rodríguez, Sophia Picasso, Ania Zarwanitzer, Melissa (Melu) Saidón, and Dana Cloe Spinadel had the unique opportunity to experience American culture and high school life, not to mention their fair share of cold weather and snow.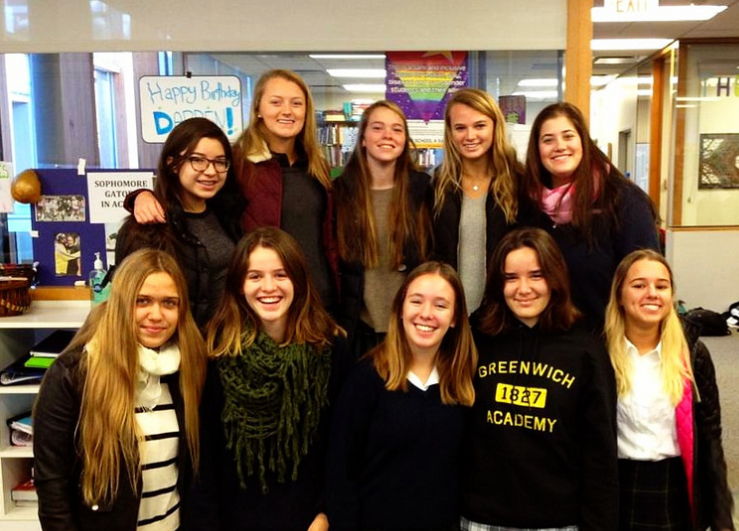 For the three weeks that these girls lived with their respective host families, they enjoyed many GA and Brunswick traditions. Brown and White, for example, was a highlight.
"In Argentina, we are not used to having black tie events within the school, therefore Brown and White was something new to us. I really enjoyed it, and I had a lot of fun and my friends did as well!" said Dana.
In addition to Brown and White, all five students participated in many other fun recreational activities. The girls visited New York to tour the city, and shopping there was among one of their favorite experiences. They also spent a day at Yale to explore the illustrious campus.
During their last weekend in Connecticut, the Argentines and their host buddies had a relaxing, fun sleepover party that solidified the bond they formed during the stay.
In addition to these notable events, simply attending GA every day and living with an American family left a significant impact on the girls. It was interesting to talk to them about the differences between American and Argentine culture.
Jazmin noted differences between social events, like B&W and Arch Street.
"Back home we don't have school dances. We just have parties at people's houses, therefore there are no teachers there and they start pretty late compared to American dances and parties. Also, back in Argentina we get together with people from other schools a lot," she explained.
Dana furthermore emphasized that Reggaeton is much more popular with youths in Argentina compared to Dubstep in America.
Sofia highlighted the difference between the two countries in their emphasis on sports.
"Here, sports are a thousand times more important," she said.
This may be due to the fact that schools in America get out a few hours before those in Argentina, providing more time for after-school activities.
Overall, the girls were happy to see this country from the view of an insider, attending an American school and residing with an English-speaking family. They already had such a solid foundation in English that they assimilated seamlessly into GA life.
This summer, the host families of the Argentines will travel to Buenos Aires to spend a few weeks. They will have the opportunity to meet new people and get to know a different kind of lifestyle, as Jazmin, Sophia, Dana, Melu, and Ania did this winter. The girls plan to visit America again in the near future because of the positive experience they had, largely thanks to GA's welcoming environment.