A Love of Shakespeare Brings Students to Stage
On February 13 Greenwich Academy was scheduled to hold its annual Shakespeare Competition in Massey Theater. After weeks of preparation, twenty-six brave Greenwich Academy and Brunswick School students prepared to perform the monologue of their lives.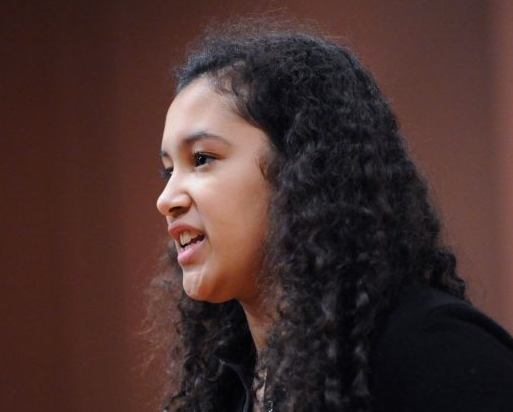 The competition has been rescheduled for February 20th. Two GA students and two Brunswick students, who received the highest scores, will move on to the regional round held at the Greenwich Public Library on March 5.
Run by GA's Mr. Brian Borowka, the competition will be judged by teachers from both GA and Brunswick. Mr. Borowka explains, "The judges awarded scores based on understanding, communication, and expression. They were looking for students who demonstrated a sophisticated understanding of the meaning of their monologue and the context. They were also looking for excellent vocal and physical expression as well as confidence and poise."
The task of bringing to life words written almost four centuries ago is not for the faint of heart.
So what made the participants so eager to compete? The answer is simple: they love to perform.
"I've always enjoyed acting, but have neglected it in recent years. So, when presented with the opportunity to combine Shakespeare, one of my favorite authors, with acting, I couldn't say no," said Grant MacFaddin, Group XI.
"After performing in Group IX's production of Twelfth Night, I had a spare monologue in my back pocket, and this competition was the perfect opportunity to show the school that I consider myself an actress," said Nicole Hessler, IX.
The hours of hard work put into preparing a Shakespearian monologue should not be underestimated. Taking a page of confusing Old English syntax and transforming it into a performance the audience can feel and relate to is no easy feat.
"You have to act as if you were the one in this scenario, not just playing a part," advises Alexa LaVersa, X.
Above all, a monologue must strike a chord in its performer.
"The perfect monologue is one that you feel you can connect with as an actor," says Jessie Vissichio, XII. "If you read it over in your head, and you are touched by the way you envision yourself performing it, then you know it is the right one for you."
"Shakespeare is meant to be performed. Watching Shakespeare in action is much more fun than just reading King Lear or A Midsummer Night's Dream," said Ridgley Knapp, X.