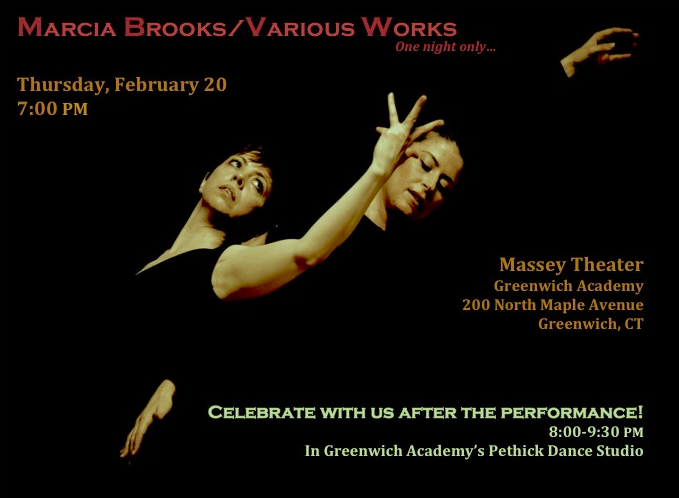 On Thursday, February 20th at 7 p.m., Mrs. Marcia Brooks, Greenwich Academy Upper School dance director, will be joined by six other dancers on Massey stage.
Dubbed "One Night Only,"  this weekday performance, in celebration of its twentieth anniversary, centers around "Extra Stuff," a solo Brooks first choreographed and performed when she was a high school student at New World School of the Arts in Miami, Florida.
The performance will include a total of five works.
Brooks has always aspired to put on a dance performance for the GA community, but the idea of reviving her solo was accidental. "Last year, I tried to digitize my solo from high school, and in the process of doing that — I lost it. It's gone forever. So, twenty years have gone by, and I've decided to give it a new life," she said.
In reviving her solo, Brooks was inspired to invite six other guest artists to join her, including GA faculty – Ms. Annie Heinemann and Ms. Theresa Hall of the Cowan Center – and other local dancers.
After her solo was erased, Brooks says she "tried putting it on with another dancer. But that fell through. So it sparked me to be a little more ambitious: research being done right now in dance targets dancers younger than the age of 35. So, I decided to work with dancers 35 and over. I got a group of women from the area together who range in age from 35-50."
Since many of these women are mothers and hold full-time jobs, Brooks says that finding the time to rehearse after work, but before family time, has been challenging.
"It's become a strain not only financially, but it's also been about how to incorporate [dance] into our lives so it doesn't disrupt the day-to-day. We don't want this to be a professional, full-time dance pursuit. We're trying to find a balance," she said of the juggling act.
"It's all about figuring out how dance can sustain itself through your life besides those critical, early years. I'm really working on finding that sustainability," Brooks said.
In fact, the company's newest piece, "In The Style of…" is choreographed by Brooks' husband, Mr. Nick Brooks, who can be found working in Ruth-West Campbell or teaching middle schoolers in the video production lab.
"There's behind-the-scenes, video footage to prove Nick is the choreographer, which the public can see at the evening performance," Brooks said.
If you wish to attend the performance, you can purchase tickets at the door for $10. For another $10 you can also attend the reception in Greenwich Academy's Pethick Dance Studio, which will be catered by Crew Restaurant.