Freshmen Attend Twelfth Night on Broadway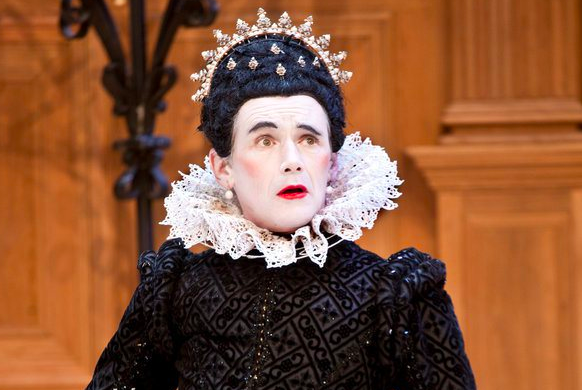 It was the ultimate culmination of months of reading, deciphering, and analyzing the text, agonizing over an essay, and even putting on a full-out production of the play— on December 18th, 2013, at a Wednesday matinee, the Group IX girls finally had the chance to see Shakespeare's Twelfth Night on Broadway!
The immortal comedy of errors, for those who are unfamiliar with the play, begins with Viola, who finds herself alone in Illyria after being rescued from the shipwreck that (she assumes) took the life of her twin brother, Sebastian. She goes on to disguise herself as a boy, Cesario, and is employed in Count Orsino's court.
Orsino is lovesick for Lady Olivia, who does not reciprocate the Count's love. Needless to say, the rest is quite simple: Olivia falls in love with Viola, Viola falls in love with Orsino, Sebastian is actually alive, confusion over identities, and madness and hilarity ensues.
The current Broadway adaptation of Shakespeare's play was painstakingly authentic from the costumes to the actions to the dances, as if one had stepped into a time machine and gone back to the 1600s.
There was also the stage, with an oak screen spanning the width of the theater and "standings" (think of stacked balconies) for audience members, all designed to resemble a court setting, where actors would frequently perform in Shakespeare's day. The musicians played with instruments true to the era, like the rauschpfeife, hurdy gurdy, tabor and sackbut, to name a few.
Some highlights of the play– and the all-male cast– included Paul Chahidi, who transformed into the sneaky and impressively décollaged Maria (Olivia's attendant) and Angus Wright, idiosyncratically guffawing and popping out of a bush as the dumb but happy Sir Andrew Aguecheek (Olivia's suitor). Samuel Barnett, who played Viola/Cesario, must be given huge props for excelling in his role despite being a boy playing a girl pretending to be a boy.
But the best performance of the night, in my personal opinion, was Mark Rylance as Lady Olivia. He exploited every single comedic opportunity, from amping up Olivia's desperation to gain Cesario's love to smearing lipstick all over his own face and fainting after smooching Sebastian. Perhaps the latter is the best analogy for Broadway's Twelfth Night; one part crazy, one part unexpected, and one part weird, but completely hysterical.