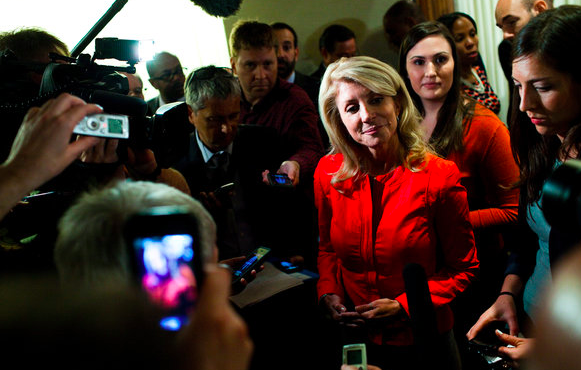 On October 3, 2013, Texas State Senator Wendy Davis announced that she would be running for governor in her home state. If elected, she would succeed the current Republican Governor, Rick Perry, and become the first Democrat to hold this office since 1995.
Davis, who currently represents District Ten, is a Texas native. She grew up in Fort Worth, Texas, and was the first member of her family to graduate from college, on a full scholarship from Texas Christian University. She graduated Cum Laude from Harvard Law School in May of 1993 and was admitted to the State Bar of Texas that November.
During her career as a lawyer, Ms. Davis worked for the corporate law firm Haynes and Boone and collaborated with Mr. Brian Newby to open a new law firm, Newby Davis, PLLC, in 2010.
Ms. Davis's political career began with a failed campaign for a position in the Fort Worth City Council in 1996. She won a seat on the City Council in 1999, and served on this council until 2008, when she won a seat on the Texas State Senate. As a councilwoman, Davis focused on issues of transportation, economic development, and neighborhood conflicts. She has continued to focus on these three issues as a Senator, as she is a member of the Senate Committee on Economic Development and the Senate Committee on Transportation.
On a state and national level, Ms. Davis has drawn the most attention for her eleven-hour filibuster on June 25, 2013, to block the passage of Texas Senate Bill Five. Texas Senate Bill Five, created on June 11, 2013, was a widely controversial measure that "would ban abortions after 20 weeks of pregnancy, require abortion clinics to meet the same standards that hospital-style surgical centers do, and mandate that a doctor who performs abortions have admitting privileges at a nearby hospital," According to The New York Times.
In a special session held to determine whether to pass Texas Senate Bill Five, Ms. Davis began a filibuster in an attempt to push the vote past the midnight deadline. According to the Huffington Post, Davis, "took no bathroom breaks and wore a back brace so she would not have to lean on anything." After eleven hours of speaking, Lieutenant Governor David Dewhurst ruled that she had gone off topic, forcing a vote on whether the filibuster would be allowed to continue.
Despite the efforts of Senate Republicans to quickly hold the vote, inquiries from Democratic Senator Leticia R. Van de Putte and disruption from political activists gathered in the lobby of the Capitol building deterred the vote. Although the vote did end up taking place, it was annulled on the grounds that it took place after midnight.
Even though Governor Rick Perry later passed the bill on a different platform, Ms. Davis showed a tremendous amount of confidence in standing up for women's reproductive rights in a deeply conservative state.
Thirty-six other states and three United States territories, along with Texas, are currently holding gubernatorial races. Ms. Davis is running against Texas Attorney General, Gregg Abbot. While there is still almost a year left until the gubernatorial elections, which will take place on November 4th, 2014, make sure to follow many of these interesting campaigns throughout the coming months.