Salads aren't just for summer.
When you're hunting for the perfect lunch this fall, these salad bars should be at the top of your list. There's no better meal than the one you design yourself.
In July, the New York Times reported that chopped salads have become the most popular lunch in the Northeast. Eat-in, takeout, hot, cold— a salad will be delicious any way you serve it. Even our cafeteria has caught on to the make-your-own salad trend.
It's essential to sift out the best salad bars from their mediocre peers. These gourmet options have the freshest, most appetizing salad selections.
Whole Foods Salad Bar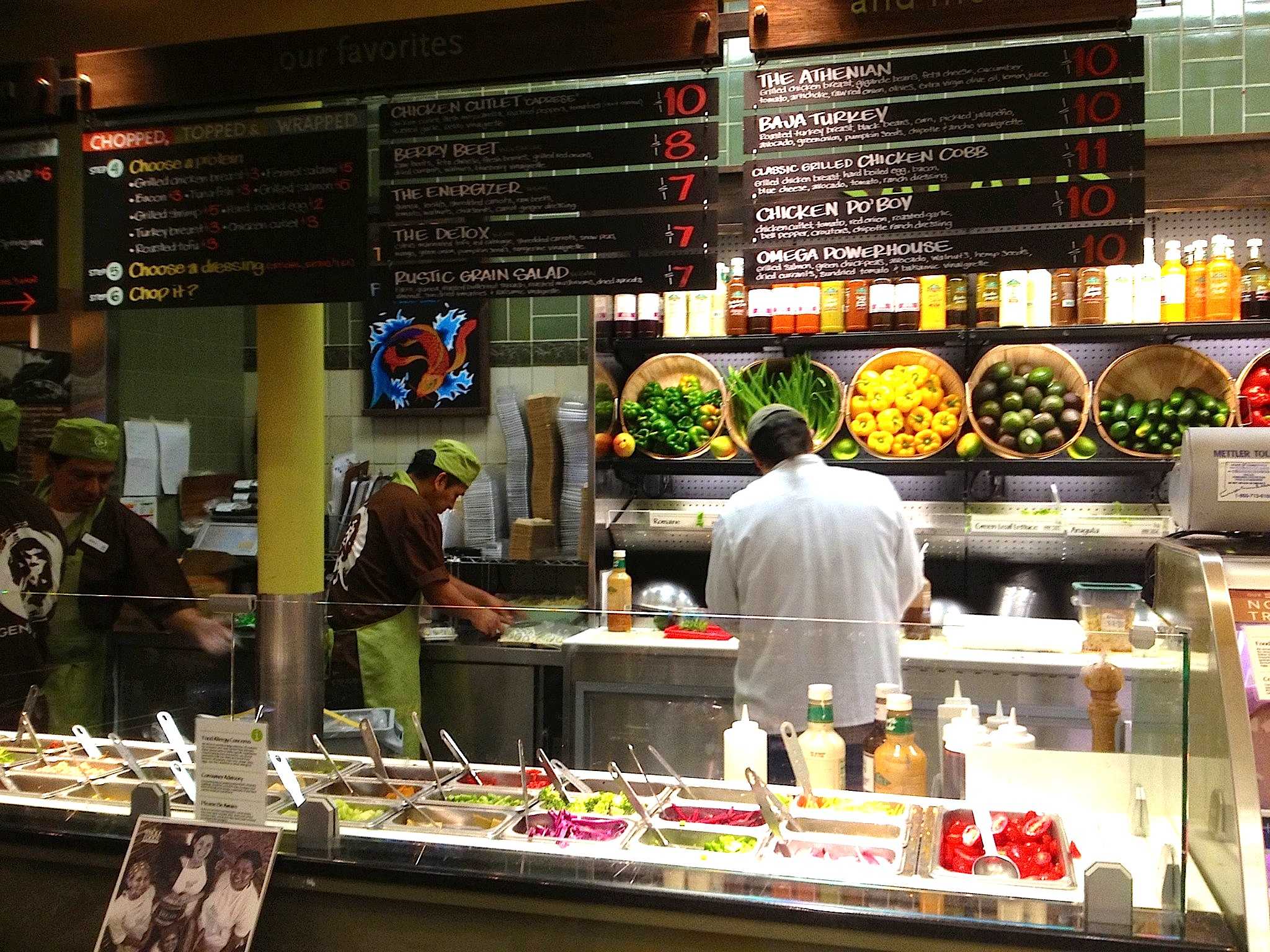 You may not have realized that the Greenwich Whole Foods has a salad bar. But it's there—in the bread section—and it's actually one of the best.
They have all the usual makings of a great salad bar, but some of their selections are especially rare. Butternut squash, edamame, roasted red peppers, and almonds are a few of their more avant-garde toppings.
And if you're experiencing culinary block, Whole Foods has a number of pre-selected options. In typical Whole Foods fashion, most of these nutrient-packed salads feature chia or kale in some way.
The caveat here is that you might have to wait awhile for someone to make your salad (salad bar line moves slowly).
($6 for a basic salad and roll, 90 East Putnam Avenue, 203.661.0631)
The Kneaded Bread
For a consistently great salad, go to Kneaded Bread. This Port Chester bakery (well-known for their Saturday morning donuts) recently expanded to include a salad bar. Now, the bar is packed at lunchtime.
The ordering process here is very efficient. Salad order forms make it easy to map out your meal. Besides the basics, Kneaded Bread has a lot of gourmet ingredients—Vermont goat cheese, shaved to order Parmesan cheese, and house-made croutons. The smoked chicken in the salad bar comes from Q, the barbecue restaurant down the street run by Kneaded Bread's owners.
If you have the chance to pick up a salad at Kneaded Bread, definitely get a roll as well, made fresh daily. The bakery will be bringing back their famous tomato soup in October.
($7.50 for a basic salad and roll, 181 North Main Street, 914.937.9489)
Leafline Salad Co.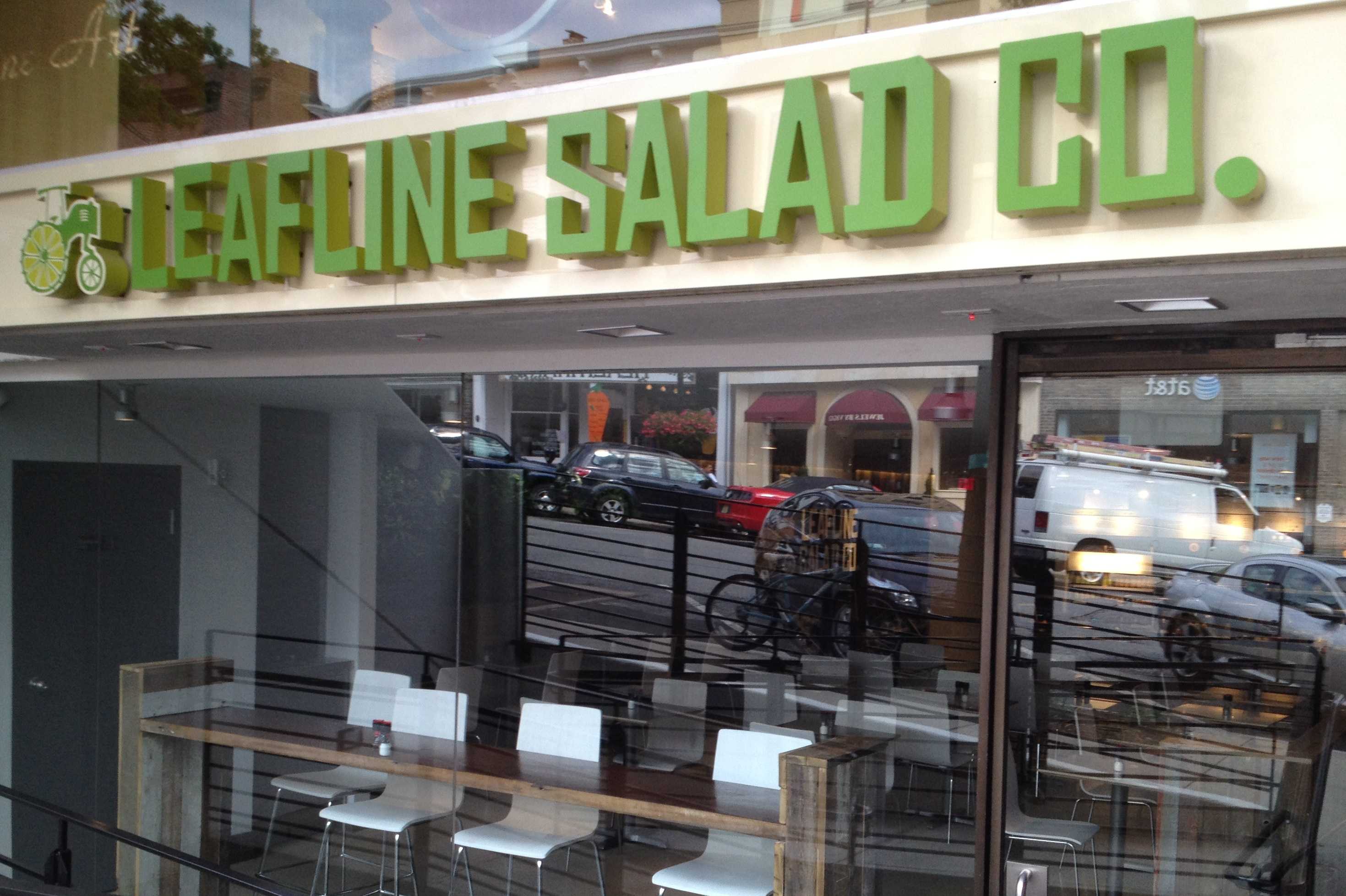 Leafline, which opened in July, is a restaurant completely devoted to salad craft. The menu is very healthcentric (they publish calories) and features gluten free, dairy free, and vegan options.
All salads at Leafline get chopped into small pieces after you've ordered. "I find that a salad is much more enjoyable when you can get all of the ingredients easily into one bite," said Leafline owner Robert Kessner. "When a salad isn't chopped I find it to be clunky and hard to get a good bite on the fork."
Leafline offers a lot of eccentric toppings: hemp seeds, strawberries, and maple-pecan smoked bacon. They have over twenty dressings, house-made daily.
And—a huge perk—Leafline delivers for orders of $15 or more.
($7.99 for a basic salad and slice of naan, 41 Greenwich Avenue, 203.413.9900)