Interdisciplinary Studies Bridge the Gap Between Subjects
As rising sophomores, juniors, and seniors at Greenwich Academy and Brunswick School peruse their 2014-2015 course catalogs, they will find a new section entitled "Interdisciplinary Studies." Students can choose from seven interdisciplinary offerings – two full year courses, three fall semester courses, and two spring semester courses.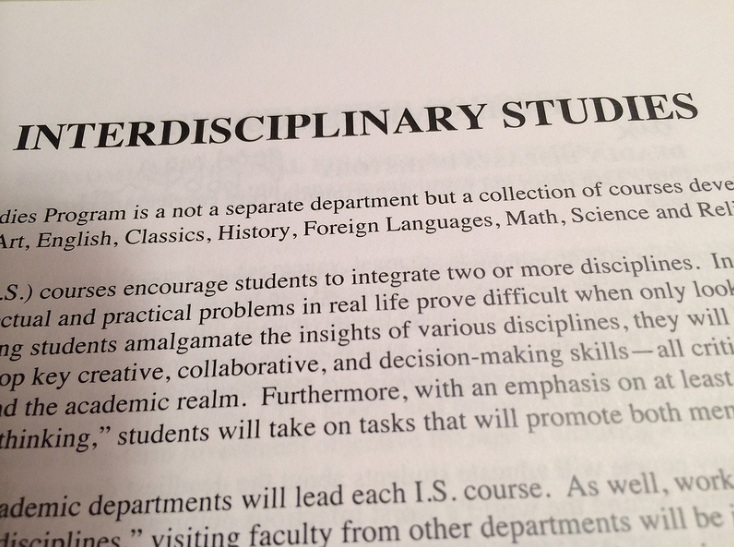 According to the 2014-2015 Course Catalog, interdisciplinary courses are meant to encourage students to integrate two or more disciplines in their studies. They are considered electives and cannot take the place of departmental core curriculum requirements. You can, however, choose which discipline you want the course to be credited as (for example, if a course is taught by a math teacher and a history teacher, you can choose whether you want the course to count as a math or as a history course).
Each course will have two teachers from different departments. They encourage collaboration in math and history, science and art, foreign language and English, and science and history.
Though it is the first year interdisciplinary courses have had their own section in the course catalog, the interdisciplinary approach is already incorporated into the GA and Brunswick curriculums. Classes such as the senior English elective New York State of Mind travel to New York City four times a year to contextualize their reading.
Financial Responsibility and Philanthropy, the only pre-existing interdisciplinary class in this year's course catalogue, takes students to visit local organizations such as The Waterside School in Stamford and Girls Inc. of Brooklyn in order to choose the organization to which they would like the Greenleaf Foundation to donate.
"The course is really unconventional. We don't lecture students and give them a test, it's learning by doing," said math teacher Mr. Evan Gilbertson.
Mr. Tom Sullivan, Head of the Upper School, stated that the goal of courses like these is, "getting outside the discipline or classroom. Kids constantly hunger for something real." He argues that when you provide "real-life" situations to students, "the learning [becomes] more memorable."
One course Mr. Sullivan is extremely excited about is Honors Design: Engineering and Design for Fabrication. This full year course, taught by the Director of the Duff Center, Dr. Ann Decker, and the Visual Arts Department Chair, Ms. Erin Riley, will take place in GA's state-of the-art design and engineering lab, more commonly known as the "fab-lab."
According to the course catalog, this class will focus on teaching students how to design and build to make their ideas come to life. Students will explore basic electronics and Arduino programming, and there will be a final team project for which students will be asked to solve a "real-world challenge."
"The course is appealing to lots of people because the course is not necessarily about science or art but about identifying a problem, setting out a solution and testing it. I think it really goes beyond both art and science," said Dr. Decker.
The other five interdisciplinary courses will be taught at Brunswick.
In Deadly Diseases in History, History Department Chair, Mr. John Booth, and Brunswick science teacher, Mrs. Kimberly Goodman, will educate students about the science and historical significance behind various diseases.
Mr. Jaime Gonzalez Ocaña, Foreign Language Chair, and English teacher Mr. Robert Benjamin will discuss the transition from classical to contemporary times, the classical roots of Western culture, and the artistic manifestations of war in War, Literature, and Popular Culture: from Homer to Call of Duty. According to the course catalog, students with a Classics background will be able to utilize their translation skills in this course.
The two spring semester courses Brunswick will offer are an economics elective entitled Personal Finance and Investment and a history elective entitled Understanding 9/11: Attack and Aftermath. Although the teachers for the 9/11 elective have not been confirmed, Arabic teacher Mrs. Mimi Melkonian will guest lecture on the Middle East in greater cultural depth.
In the coming years, Mr. Sullivan hopes that the interdisciplinary program will expand and that some of the courses will be team-taught by one GA teacher and one Brunswick teacher. To find out more information about these new additions to the course catalog, contact any of the teachers listed in this article or schedule a meeting with your advisor.