Greenwich Academy is eager to welcome four new faculty members to the Upper School. All will certainly contribute positively to the 2013-2014 school year and beyond. We are looking forward to learning from them, seeking their guidance, and for now, getting to know them a little better!
Below are excerpts from GAP's conversations with Ms. Anna Brenner, Dr. Lindsay Sears-Tam, Mr. Kent Motland, and Mr. Eamon DePeter … who also told us their favorite TV shows.
Ms. Anna Brenner (English) (Mad Men and New Girl)
As a graduate student at the University of Michigan I taught college writing and creative writing. I've never taught high school though; I'm on a new adventure!
GA's teaching fellowship offered an opportunity to learn from an incredible faculty. And when I visited GA I was so impressed by the sense of community, the warmth of the environment, and the students' clear enthusiasm. I got a really good feeling.
I'm looking forward to getting to know the GA students. I'm excited for our class discussions!
In high school I worked on the yearbook, and I also did a lot of art. I liked painting and drawing.
Dr. Lindsay Sears-Tam (Latin): (Lost and The Office)
In order to get a PhD in classics at Cornell, I taught a Latin class for four years there. I taught first-year undergraduates… I had a lot of frat boys [laughs]. I really am excited [for high school students] though. I think there's a freshness and enthusiasm that they have."
I walked onto campus at GA and thought, 'yeah, this really feels right.'
[I'm looking forward to] interacting with such inspiring, bright young people and planning my own classes completely. At Cornell there's a set program where they go, 'here's your book, here's what you're teaching,' but here, Madame Harper told me, 'whatever you want to teach!'
I was such an overachiever! I did National Honors Society, French club, Latin club, community service club, and organization for the drama club… I don't know how I managed all those things in high school.
Mr. Kent Motland (English): (A toss-up between Mad Men and Breaking Bad)
I taught at Newark Academy in New Jersey for 10 years and at Rippowam Cisqua last year.
It [GA] was a great opportunity. I came down and met Mr. Feiner and a few other people and it was a great opening. I live not too far away too, so I was excited.
[I'm looking forward to] getting to know a large number of new people. It's exciting and also a little overwhelming, but it's fun to start fresh.
I was an ice hockey and lacrosse player and I gave tours around my high school.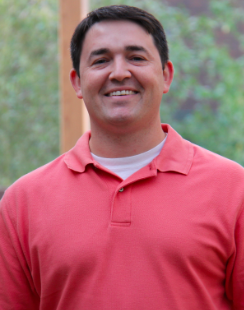 Mr. Eamon DePeter (Math): (Family Guy)
I have been teaching math the past 4 years in Rye Brook, NY at Blind Brook Middle School.
I came to GA because I wanted to teach in the high school and GA had a great reputation.
[I'm looking forward to] working with the great math department and hopefully passing on my passion for math to the younger generations.
 I played soccer, basketball and lacrosse all four years in high school. I also dabbled in student government for a few years.