In just a few months, eighty-two seniors will say their final goodbyes to Greenwich Academy.
But what happens next? How will it feel after the white gowns and spray tans?
According to a few recent GA grads, the seniors have plenty to look forward to.
"My favorite thing about college is the fact that you are living with all of your friends," said Savannah Strong '11, a junior at Princeton University. "It really gives you the opportunity to spend time with people and get to know them on a deeper level."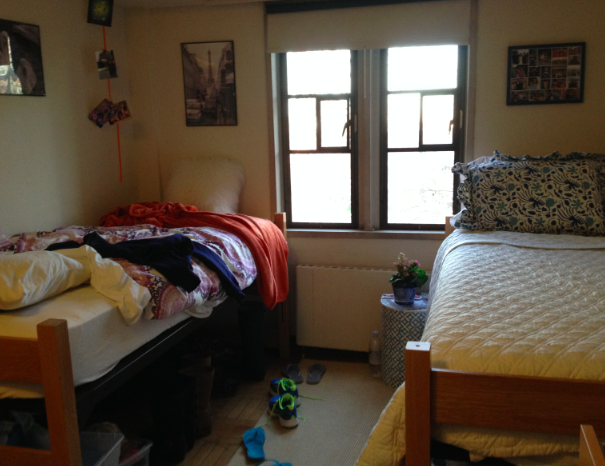 Many find a sudden influx of free time to be one of the biggest differences between high school and college. "At GA our days were packed from dawn until dusk," said Anne Gilliland '12, a sophomore at Georgetown University, "but at college your classes are often more spaced out and you don't spend nearly as much time in an actual classroom."
And on a college campus, free time isn't vacant time. "I've been able to spend a lot of time with friends, meet new people, and do a bunch of extracurriculars." said Julie Kukral '13, a freshman at Northwestern University.
So far, Kukral has joined the Club Sailing team and become an illustrator for an on-campus magazine. She is also part of the design team for "Northwestern's version of Daedalus."
Academics, too, can pose an adjustment at college. "Exams count a lot more and there are only a few of them per semester, so you want to be as prepared as possible," said Gilliland. "You have much more independent work to do, so I have found that it is really important to stay on top of the stuff that you are required to do such as textbook reading."
But—let's not get ahead of ourselves—it's only the third month of school, and the seniors aren't going anywhere anytime soon. In the meantime, say these graduates, there's plenty to savor while high school lasts.
"I really miss the constant emotional and academic support of the teachers," said Kukral. "Being a freshman I have yet to develop the relationships with faculty that I had over seven years at GA."
Strong agreed: "I have wonderful professors here at Princeton that I have good relationships with. However, nothing compares to spending hours sitting in Mr. Palmgren's office or kicking it with Mrs. Feiner."
And there's another part of GA you might be taking for granted—the food! "Surprisingly, I miss the dining hall at GA a lot," said Kukral. "It's actually so hard to be healthy at college and trust me, no matter where you go, GA's lunch most likely will be a lot better!"