GA & WCK Players Enjoy Fringe Benefits
US Actors Hopped the Pond To Hit Scotland's Fringe Festival
The Edinburgh Summer theater trip is a fantastic opportunity for GA and Brunswick students interested in theater to showcase their talent, as well as learn more about the world of theater by attending the Edinburgh Fringe Festival. This past summer, eight GA students—Dianna Palacious '23, MK Blum '23, Marisol Flores '23, Elizabeth Spaulding '23, Fifi Fernandez '23, Jessie Ong '22, Valentina Carreño '22, and Celeste Batres '22) and three Brunswick students (Henry Roth '25, Tony Zhu '25, and Dylan Kirsch '23) attended the twelve day trip in August.
The Edinburgh Fringe Festival is one of the largest arts festivals in the world and takes place every August for three weeks. It's a perfect opportunity to engage with other artists and performers from around the world, as well as learn more about theater and how it's expressed in other cultures and communities. The festival is highly diverse, showcasing all genres of theater. Comedy, dance, physical theater, circus, cabaret, musicals, and opera are some of the genres you can expect to see when attending the festival.
During their time, students performed Back Cover by Emily Hageman at Riddles Court daily. The play is a coming-of-age story about teens figuring out the world around them. It's a story about remembrance, family dynamics, friendship, and the reality of growing up. The play is narrated by Madison, the main character, and follows her journey of self-reflection and independence.
When they weren't acting, students were watching other shows such as Unfortunate, The Zoo Story, Tenderly, Mind Mangler, Macbeth, and A Eulogy for Roman. Aside from the stage, students were out and about, exploring the beautiful city of Edinburgh. They visited attractions such as Holyrood Palace, Edinburgh Castle, St. Andrews, Castle Sands, and Arthur's Seat. But one of the most memorable events was The Royal Edinburgh Military Tattoo. This performance celebrates musicians from around the world. In addition to exploring Edinburgh's culture and architecture, students also explored Scotland's gastronomy. Restaurants and cafes that were visited included The Painted Rooster, Le Petit Café, Mimi's Little Bakehouse, Greenwoods, Nando's, and many more.
Leave a Comment
About the Contributor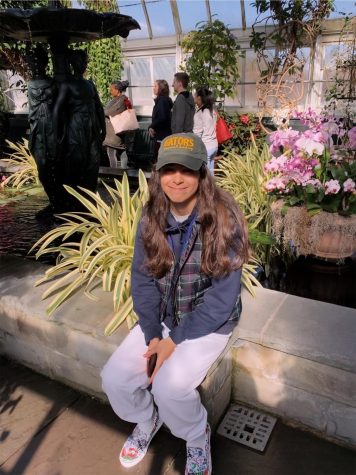 Izzy Rosales '23, Associate Editor
When not writing for GAP, Izzy is an art enthusiast who loves touring New York and spending time with her cats!