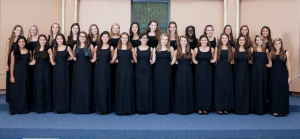 This past winter break, the Madrigal singers were asked to sing at a wedding on December 20, 2014, the first Saturday of holiday break.
Despite the fact that this performance took place during break, the Madrigals were happy to sing for the wedding if they were around. The bride, after all, was a fellow member of the GA community: third grade teacher and 2001 GA graduate, Ms. Holly Haertel, now Ms. Holly Hill.
"If it was fashionable for my bridesmaids to wear green plaid I probably would have, since Greenwich Academy and its traditions are such a huge part of the person I am today.," said Ms. Hill, by way of explaining her decision to bring a little GA color to her ceremony.
Ms. Hill herself was not a Madrigal, but she reports having been "in awe of the Madrigals' talent and poise" when she was a student.
The wedding was so early in the break that many singers found the performance pretty doable. "I thought it was fine because it was very early in winter break, and people were still around so we had enough to perform," said Jordan Smith, XI.
Ms. Hill was especially appreciative, acknowledging that the Madrigals "sacrificed their first day of Winter Break to be there."
When asked whether there were any other performances over breaks in the past, Sarah Frauen, XII, answered "No, not since I've been a Madrigal, which has only been the past two years."
But "…there have definitely been weekend performances… It's something that comes with being a Madrigal because performing at people's parties is very common," Frauen added.
"Everyone was excited about it, and the people who didn't go were disappointed because it was a really beautiful service.
The groom started crying—it was quite touching. We were in the front by the altars, about a foot away from the couple getting married so we saw it all firsthand," said Dunn.
Ms. Hill reports that "having the Madrigals perform at our wedding was truly magical! They have the most beautiful voices I have ever heard!"
"Singing at the wedding wasn't 'I had to do this over break' but it was that what we were doing was so special," said Frauen. "It was a great experience because we got to be a part of something they'll remember for a really long time, which is really unique."
Among the songs Madrigals were asked to sing were "Dancing Day" and "Personent Hodie," both by John Rutter, and, of course, the perennial GA Commencement classic, "Jerusalem."
"I am so grateful to Mrs. Raaen, Mrs. Ellis, and all th Madrigals for their hard work and amazing performance," Ms. Hill said.