Jessica Yacobucci and Alexa Beeson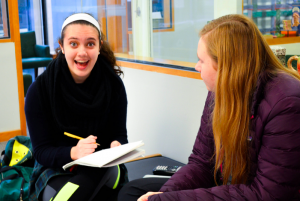 How do you study for exams? Are you super organized with lots of color-coding or do you just kind of wing it?
Jessica: I use pipsqueak markers and make review sheets!
Do you think its fair that the work we do in two hours counts for so much of our grade, when we put in so much other time during the semester?
Alexa: Noo, I like how they reduced them, but it still counts for so much.
Do you think your teachers downplay or exaggerate exams' importance?
JY: They tell you it's not really a big deal and then they give you a really hard exam…
AB: I think they might try to deemphasize them since everyone puts so much pressure on themselves already.
Do you think girls put too much pressure on themselves during exams?
JY: Ya definitely, not a single person doesn't stress about exams.
How do you think Wick and GA students handle exams differently?
AB: They [Wick boys] study for an exam as much as they would for a test and they are way more chill right before the exam.
What are the worst and best parts of midterm week?
JY: Not sleeping…I just don't sleep. The best part is when you're done and you have the three-day weekend.
What do you usually wear during exam week?
JY: Last time, I thought everyone was going to be wearing sweatpants, so I wore sweatpants…but then no one was wearing sweatpants.
What's your biggest exam fear?
AB: Especially in Latin, I remember I had a test once where I did not know the passage that we were supposed to translate at all, so that's my biggest fear. Or having none of the history essays you study appear on the exam.
What's the first thing you do when you finish your last midterm?
JY: Mr. Schwartz advisory lunch!