Throughout Americanah, by Chimamanda Adichie, Ifemelu must experiment with her hair in order to increase her chances of getting a job.
This exhibits the extent to which black women are expected to change their hair –whether they use braids, twists, weaves, or wigs – in order to fit in. Though it may not seem like it, black women must put in a lot of work to keep their hair tidy and "acceptable."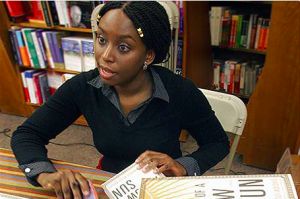 Ifemelu, like me, is Nigerian, meaning that her natural hair is kinky. When combed out, her afro rests on top of her head and refuses to move in any direction except for up.
In America, afros are rarely, if ever, advertised in fashion magazines or on TV. 99% of famous women, in any area, have hair that falls down their backs. It may be curly, straight, or wavy, but nonetheless, it is "swingy hair"(252).
Afros are beautiful when well kept, but in reality, they are very difficult to manage.
But in order for kinky-haired folk to achieve "white-girl swing"(251), they must relax their hair, which is "like being in prison. You're caged in. Your hair rules you… You're always battling to make your hair do what it wasn't meant to do"(257), Adichie writes.
And though black women may be aware of this, they are still willing to go through with it for the sake of being considered for a job, or simply for the chance to look in the mirror and like what they see.
Alternatively, many kinky-haired ladies turn to braids or twists. This is not always received well by Americans, especially when it comes to what is and what is not appropriate in the workplace.
"My only advice? Lose the braids and straighten your hair. Nobody says this kind of stuff but it matters. We want you to get that job"(250), Ruth tells Ifemelu in Americanah.
Americans often associate twists or braids with unprofessionalism. And why? Because thanks again to the media, the style is unfamiliar.
Since I was a young girl, I have been obsessed with having the "white-girl swing", but that is only because it has been my only idea of beauty. Growing up in Greenwich, Connecticut, you don't see many black people, and when you do, they tend to have straight hair, acquired in one way or another.
Even Beyoncé, as big a star as she is, is constantly wearing hairpieces or straightening her hair for the sake of connecting to her audience more. It is debatable whether or not she would be as likeable if she walked around with her naturally kinky hair.
In primary school, I did not have much say in how I styled my hair. My mother, despite my requests, always felt that cornrows were the best way to go at the time, but I hated my hair and did my best to avoid mirrors.
I was disgusted by the fact that my hair was stuck to my head, unmoving from it position, unlike the girls in my class who could wear their hair in ponytails, headbands, or just have it drape down their backs.
Maybe if I had seen more women with my type of hair in the media, I would not have been so hard on myself.
But the way I saw it, the "swing" was a simple fundamental when it came to acquiring beauty.
It was not until the 5th grade, when I came to Greenwich Academy, that I began to wear my hair in single braids, regularly.
Though it is a step up from my afro and cornrows, it was only a matter of time before I became embarrassed of this hair too.
I couldn't help but assess all aspects of my hair, and compare it to those of the people around me. Not to mention the fact that kinky hair grows very slowly, so even when braiding my hair, I still need to buy synthetic hair because mine, on its own, is not long enough.
And though single braids may be nice for a while, they eventually become unkempt: the true kinky hair begins to show through the braids, and the "swing" that it once had is lost.
People sometimes ask me why I braid my hair, and I tell them that it is because my hair is too hard to manage; or they may say that they think my hair is "so cool", whether braided or not, but I can't help but wonder if they would feel the same way if they were stuck with kinky hair.
Would they still think it cool while watching everyone else around them live with their own hair, while barely having to put any thought into it? Other times, if people believe that all the hair on my head is mine, I let them, because thinking of ways to explain my hair is exhausting.
As black women are forced to experiment with their hair in order to get it to move in ways that only Caucasian hair moves, it is sometimes necessary for them to put aside the pride and dignity that could accompany their hair.
Americans may believe that a black woman's hair says something about her, but the truth is that she is just looking, like everyone else in the world, for a style that suits her.
Unfortunately, these women may have no pride in their hair to begin with, making them more eager to change, but if it makes them happy, then who is anyone to tell them that they made the wrong choice?