Six GA Students Hear Kissinger Speak in NYC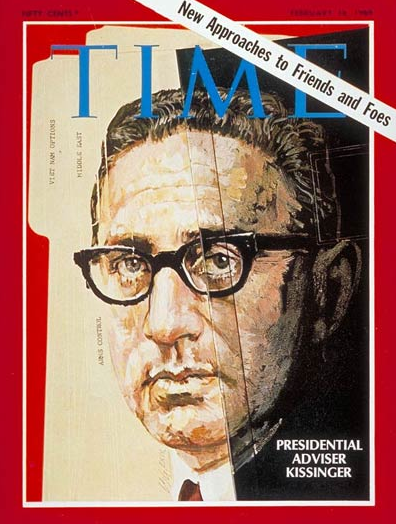 On Tuesday April 8, six GA girls and two faculty members had the privilege of heading into New York City to attend the Asia Society's launch of their new program: the Asia Society Policy Institute, or ASPI.
The lucky GA attendees were Caroline Willkie, Group XI, Caroline Zhao, XI, Sarah Sheer, XI, Jordan Fischetti, X, Annika Tallis, X, Seton Beitler, X, Ms. Connie Blunden, and Ms. Andrea Paradis.
The Asia Society's mission with this new initiative is to generate an "Asia-centric global network of experts who create solutions that advance the prosperity, security, and sustainability of Asia."
For this formal launch, the Asia Society invited many distinguished guests to speak, including Henry Kissinger, Chairman of Kissinger Associates, Inc., and the Former U.S. Secretary of State and National Security Advisor.
Kissinger's speech characteristically took on foreign policy issues from the standpoint of a historian.
In response, the Deputy Directory of the International Monetary Fund, Zhu Min, asked him some hard-hitting questions about the global dominance and power China has gained in the recent century.
Kissinger argued that no country can succeed on its own. This surprised many in the audience, considering China's increasingly powerful place in the world has become a fear of many nations.
Blunden, who orchestrated this opportunity for GA, expressed her enthusiasm for this experience.
"Having the chance to attend the formal launch of the Asia Society Policy Institute was truly a privilege. I was captivated by the conversation between Dr. Kissinger and Zhu Min knowing that Dr. Kissinger's comments represent a lifetime of public service and policy work. I was intrigued by his thoughts on the shifting balance of power in the world and how the United States might best respond to this," she said.
Perhaps the highlight of the evening was when one of GA's own, Annika Tallis, had the opportunity to speak. She asked Kissinger what our generation can do to prepare for the future and how we can work to strengthen international relations.
Blunden summarizes Kissinger's response this way:
1) Organize politically.
2) Develop your own identity. Don't wait for 500 friends on Facebook to validate your views for you.
3) Do not confuse excitement with historical process. I took that to mean that events like Occupy Wall St are exciting, but that is different from long-lasting policy change.
4) Go deep in your knowledge so that when you are trying to solve future problems you understand the evolution of the history/events. Beware of solutions based on ad hoc emotion.
After Kissinger spoke, another panel of very distinguished guests spoke on the topic of "Asia 2025." Among them were former or current ambassadors to the US from Asian nations, former or current Prime ministers of Asian Nations, professors, Senior Fellows, and CEOs, all of whom were able to offer authentic perspectives on the modern day issues in Asia.
Among them, perhaps Cui Tiankai stuck out the most; he is the Ambassador of the People's Republic of China to the U.S. The moderator raised the issue of conflict over the islands both China and Japan claim to own.
Almost proudly, Ambassador Cui proclaimed that China had not sent any military planes to those islands, when really it appears they have. At this remark, one member of the panel scoffed, demonstrating his disbelief and amusement at such a ridiculous remark. From there, the tensions rose, and the two began to go back and forth heatedly.
GA's eight representatives felt extremely privileged to hear such distinguished people in the field of international relations speak and were grateful for the opportunity to enhance their learning.