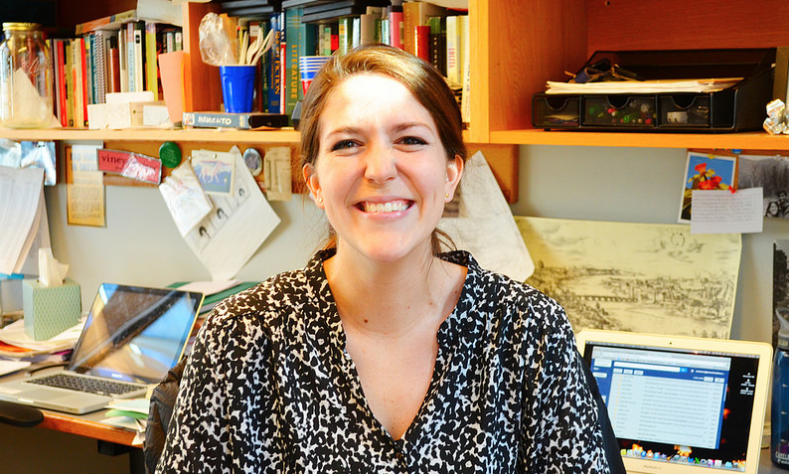 Ms. Sarah Holzschuh has been teaching English at Greenwich Academy for the past three years. Before coming to GA as a teacher, Ms. Holzschuh attended GA as a student and graduated from Georgetown University. She is currently working toward her Masters in English from Middlebury College, which she attends in the summertime. Before becoming a teacher, Ms. Holzschuh also worked in public relations. In her free time, she loves to read, cook, and bake.
What is something you have learned since coming to GA?
I've learned about the power of small exchanges and interactions. People at GA take such care to greet one another, check in, ask "how are you?" and listen to the answer – and the relationships that come from these exchanges are really special.
What was your favorite part about attending Georgetown?
A couple of things – I loved living in DC because it's a really cool city – as well as a huge metropolitan center, and of course a political center of the world. There is also an under-the-radar arts scene that I really enjoyed. I really liked feeling like I was a part of a tight-knit community; I participated in a lot of theater and music.
Who's your favorite singer?
I am obsessed with the band Civil Wars. I also love Beyoncé. I think she is the most vocally talented singer out there right now. I think the same of Sara Bareilles.
As an English teacher, what's your favorite word and why?
It changes A LOT, but, in general, I'm into less appreciated parts of speech. Right now it's "consequently."
Favorite book? Do you remember when you first read it?
It's hard to pick a favorite, especially when you're comparing what you read when you were younger to books you've read once you've matured. In my sophomore year of college I read Tender Is the Night by F. Scott Fitzgerald, and I immediately read it two more times back-to-back.
TV shows you loved when growing up?
Definitely The OC in high school.
If you had to take on the life of one character from any movie, who would you pick?
Harriet the Spy, I would like to be her even as an adult.
What has been your single, most rewarding moment as a teacher?
There have been a lot of good moments; the reason this job is cool is because you're constantly reminded of why you do it. This year is really the first time that I've had graduated students come back, and hearing their perspective a year out has been great to see, and it's nice to know kids are still thinking about you or your class.