SPOILER ALERT: This review may contain spoilers, both for series 2 and series 3. If you have not watched the episodes yet and plan on doing so, beware!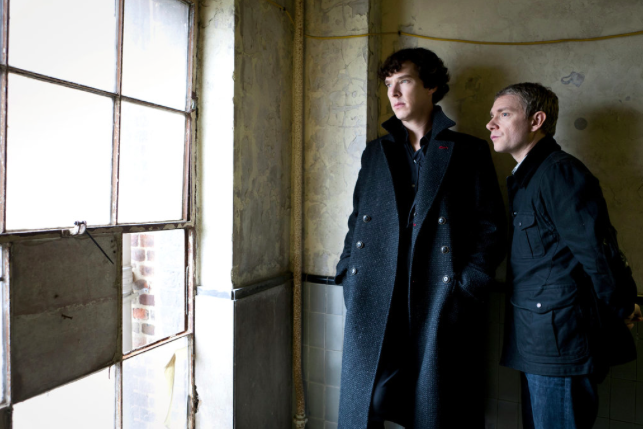 As many new and old fans know, the third season of BBC's hugely popular Sherlock has finally aired in the US and promises to be Sherlock Holmes' big comeback.
The British TV show, created and written by Mark Gatiss and Steven Moffat, is a modern-day adaptation of Sir Arthur Conan Doyle's famous Sherlock Holmes. With Benedict Cumberbatch in the lead role and Martin Freeman playing the loyal John Watson, the three 90-minute episodes per season are always exciting and suspenseful. Other integral characters in the show, including Jim Moriarty (Sherlock's arch-nemesis), Mycroft Holmes (Sherlock's brother), Detective Greg Lestrade, and a new character this season, Mary Morstan (Watson's wife), also add to the action.
The first episode this season is called "The Empty Hearse." Back from the dead after his alleged suicide, sociopathic genius Sherlock Holmes tackles the task of crushing a terrorist organization.
The episode begins in a silly, lighthearted manner when Sherlock, upon returning from the dead, interrupts John's attempt to propose to Mary. This leads a furious John to beat up his best friend (both for ruining the moment and for concealing his survival for two years) multiple times.
But nail-biting drama follows: John's near-death by burning effigy, the near-destruction of London by a ticking terrorist bomb, and a sneak peek at a completely bone-chilling new villain. With moustaches, drunkenness, drama, and suspense all rolled into one perfect package, this episode reads like a love letter to all who patiently waited for Sherlock to return.
The second episode is entitled "The Sign of Three." Most of the action takes place at John and Mary's wedding, where Sherlock is the best man. This episode is not as strong as the first, as it had little direction in the beginning. Even though rambling Sherlock is entertaining, this episode also lacks the drama present in the first episode.
This lack of drama though, gives viewers a chance to get to know Mary, and it lightens up the usually dark storylines of the series. Also, the connection between seemingly random and then suddenly relevant cases is a nice touch, as Sherlock and Watson snap into detective mode once they realize the mastermind of the unsolved cases is present at the wedding.
The last episode of the season is aptly named "His Last Vow." Here, viewers finally get to see Lars Mikkelsen take on Charles Magnussen, a dead-eyed villain with a powerful mind. In addition, Sherlock almost dies and John's closest friends betray him. But it is mysterious Mary who ultimately emerges as a leading player (you will need to watch to find out how).
Maybe it is because this is the finale episode, or maybe it is because I loved the return of Sherlock's suspense, but I think this episode tops the rest. From multiple shockers and twists like never before (hint: watch until the very end), "His Last Vow" is a fantastic capper and, as always, leaves viewers desperate for the next season.