Luxury: What I Learned in Haiti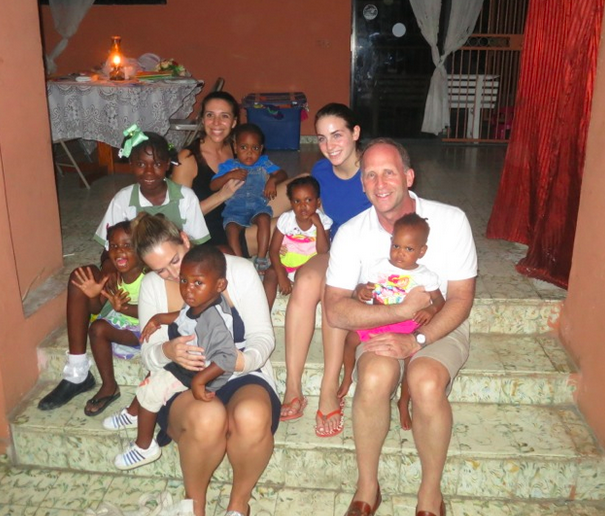 The following is Brooke Miller's (XI), account of a recent trip she took to Haiti with her father, an orthopaedic surgeon at Greenwich Hospital, and a team of doctors.
I embarked on my journey before the sun came up. Takeoff was nerve racking as always, but I had never felt as uneasy as I did when our plane hit the runway. Even from the safety of economy comfort, I recognized the peril that awaited me.
Disembarking, heat hit me as hard as my fear. People swarmed my father and me, grabbing our bags to carry for us, hoping for a tip.
Our group of fifteen gathered in the parking lot, and we began the strenuous task of loading our suitcases on top of a colorful and rickety Haitian tap-tap. We swayed and rocked with our arms outstretched, clutching tightly to our luggage, in awe of the dicey roads and daring motorcyclists whizzing by.
As we reached the Adventis hospital, my nerves began to cool. I gladly accepted the protection of a heavy metal gate, only to realize it was easily opened from either side. Unpacking and trying to find a place for the medical supplies our group collectively brought was a full day's work.
We came to understand that chaos reigned over organization in Haiti, and no closet or shelving unit would change that. We were given a tour of the hospital, one of the only buildings left standing in that area after the earthquake, and we were driven to our hotel.
Language barriers had been a problem the moment we arrived, but the check-in at our hotel was like nothing I have ever experienced.
Hour upon hour of power shortages and computer short circuits followed. They made for an exhausting day that ended in a deep sleep.
The next morning I was woken not by my alarm set for 6:30, but by the sound of metal clanking. This disturbing noise was none other than a man who soon became notorious amongst the doctors on our trip as 'machete man,' sharpening his weapon for the day ahead.
The hospital was a maze. We weaved in and out of people lined up to see the American doctors, keeping our bags tucked under our arms.
The hospital had a single x-ray machine, and my job for the day was to collect doctor's notes for x-rays and keep an organized line of people waiting to use it.
The government of Haiti shifts the electricity from region to region each day, and it happened to shut off the region of the hospital as the x-ray line was at its peak. Time stood still. The hour it took to get power back felt like a week.
The x-ray machine did not have any sort of printing capability, so we used our iPhones to take pictures of the x-ray for documentation if the patients were to have surgery.
Surgery was another challenge. Clinic day was over and we had fourteen cases lined up for the day, with only two operating rooms. Each doctor preparing for his or her case assigned me a list of materials I had to pretend I understood and retrieve.
I teamed up with two physicians' assistants volunteering from the Dominican Republic, and with my little knowledge of Spanish and their familiarity with the hospital, we completed each list in time for the patients to be wheeled in.
My dad's first patient, a 23-year-old man in tears, explained that he had lost his money on his way to the hospital and was not able to pay for the blood work required for the surgery. This proved to be a common problem.
We first figured we were being tricked into buying their blood work for them, but we soon came to understand that they simply had nothing. Some of our patients that day had travelled numerous hours to reach our hospital, and to turn down a person because he couldn't afford what he so badly needed would have been inhuman.
Expired tools and unsterile equipment slowed down the process of simple procedures significantly. And an emergency C-section interrupted the turnover between two of our cases. We worked late and crashed as soon as we were back at the hotel.
From what I saw in the hospital and beyond, Haiti is a country in need of so much more than a team of doctors or suitcases full of medicine. Buildings, clean air, clean water, and motivation to improve are all lacking.
Though we visited the orphanages and volunteered at the hospital, the small help we gave is a blade of grass in a field of chaos. Tents lined the dusty streets, and the extent of the poverty became more clear each mile we drove.
I have never been more grateful to live where I do; the sheer fact that I was born in this country is a blessing. This trip was an eye-opening, astounding experience that I don't think I will ever forget.