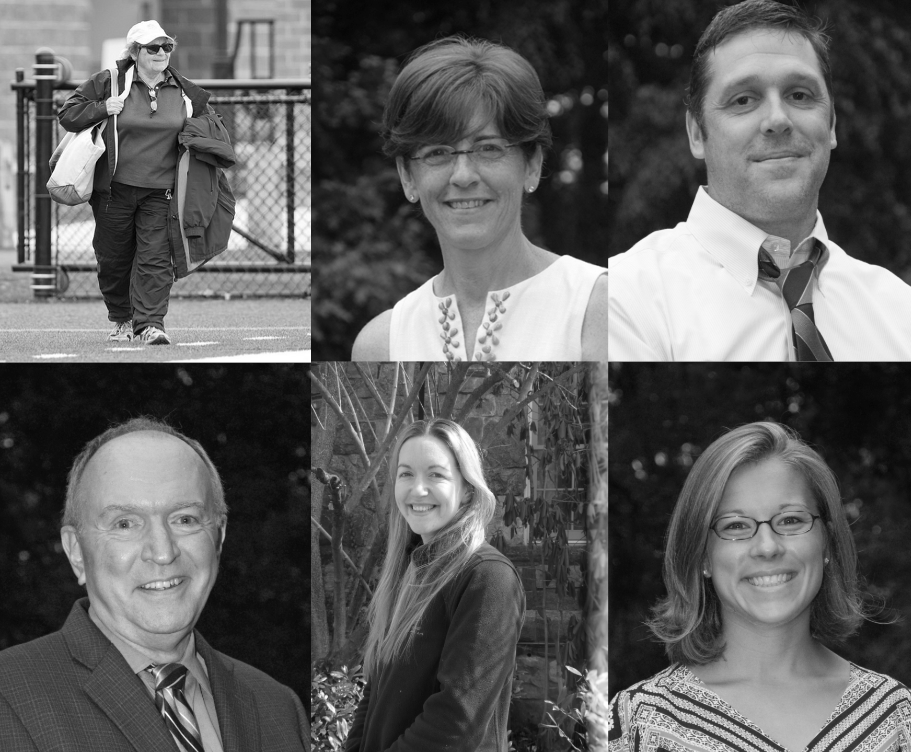 It is undeniable that on the journey through high school, especially at Greenwich Academy, teachers and coaches play a crucial role in their students' lives. As GA faculty are constant figures of support and advice, it is sometimes easy to forget that they too are on a journey, albeit a different one.
At the end of this year, Ms. Kelly Teagarden, Ms. Suzie Pierrepont, Mr. Karl Palmgren, Mrs. Julia Guggenheimer, and Mrs. Angela Tammaro are all leaving GA. In some way, shape or form, each of these gifted and giving faculty members has had an impact on every member of GA.
This piece is to honor the service they have given to the school. This praise is also only a snippet of the complimentary, heartfelt comments each departing teacher received. The whole GA community wishes them the best of luck on their future endeavors.
Ms. Kelly Teagarden
"Ms. Teagarden and I began our journey at GA together three years ago. Over this time I have grown particularly fond of her unfailingly upbeat attitude, her indisputable modesty, and her persistence and dedication to her work. In teaching with her this year, I have been able to witness firsthand the effect she has on her students. They revere her for her wholesomeness and good judgment, not to mention her relatability – all of which are irreplaceable. I know that I speak on behalf of many of her students and colleagues when I say that she has had a profound impact on our lives."
-Mr. Evan Gilbertson
"She is one of the nicest teachers at this school and is always willing to help anyone feeling the slightest bit insecure in their understanding of any facet of European history. But more than that: she does not deny any kid the right to be more active in the community or the classroom. If it takes twenty questions for you to get how Stalin could have possibly risen to power, then twenty questions Miss Teagarden will answer… If you have any community service ideas you are considering introducing to the school, then Miss Teagarden's door has always been open. Kids in her class like her so much, they feel comfortable emailing her funny pictures that make no sense… That's just the atmosphere around Miss Teagarden: easygoing, unearthly amounts of nice, and there for her students."
-Seton Beitler, Group X
Ms. Suzie Pierrepont
"[Ms. Pierpont] has been a strong, passionate coach and has helped the tennis team to achieve all of our successes in the past few years. We are so lucky to have had her as a coach."
-Julie Berenblum, Group XII
"Ms. Pierrepont, or Suzie, as she is widely known, arrived at GA with big shoes to fill given the long-term success of the squash program. Her experience as an internationally known player gained credibility with the team from the get go. During her tenure, Suzie led the team to three National High School Championships (one year was snowed out) and three New England Championships. The hallmark of Suzie's career at GA was her ability to refocus a player during a tough match — be it on court strategy or instilling confidence in a shaky moment — Suzie was able to connect with the girls in a way that inspired them and allowed them to sustain success in the program."
-Mrs. Martha Brousseau
Mr. Karl Palmgren
"I've been so lucky to have known KP for four years. He has been such a supportive, outgoing, and funny coach, teacher, and dean. I'm really going to miss his jokes. Whenever I have a bad day or a funny story to share, he is always the first person I go to."
-Eri Sumino, Group XII
"KP has a wonderful ability to make people laugh at themselves. We shared an office for many years, and he pegged me as a hoarder, often complaining of the messy papers on my desk. He finally erected a DMZ – a demilitarized zone – between his perfectly spotless work space and my desk (I told him the papers were a sign of creativity). He loves practical jokes – I think he freaked out Kent Motland at the beginning of this year – and he's been a unifying force in the history department. He likes to pretend he's not cultured and especially enjoyed interrupting art history class on occasion to make cracks about some abstract painting on the board. But in fact, Palmgren is a lover of all things cultured, especially Italian, and he's a serious foodie. He likes nothing more than swapping stories of barbecue technique with Mr. Sullivan, Mr. Pepe, or Moe Tarrant at lunch. KP is a devoted dad, and though he sometimes loses track of how many kids he has, he is all about family. I'm really going to miss him next year."
-Mrs. Kristen Erickson
Mrs. Julia Guggenheimer
"She was the best advisor I could ever ask for. I don't think I could have gotten through high school without her. She was always there for all of her advisees, whether for a birthday, help with homework or any other problem through high school. I'm going to miss her so much next year!"
-Sammy Yorke, XII
"Guggs was definitely the most influential person of my high school career. She was simultaneously my mom, teacher, advisor, life coach, and friend. Our school is losing a great asset to the Greenwich Academy community, but we were so lucky to have her for as long as we did. (Trinity is too lucky to be getting a teacher like her)."
-Nikki Kaufmann, XII
"There is so much about Guggs that she does in her own quiet way that no one ever really knows about…
 One day she found some GA students in the Greenwich library studying. She found out that they hadn't eaten and so in her Guggs manner, dropped what she was doing and took them all to lunch.
A few years ago when she was also a senior advisor some of her students forgot to get blankets for ingathering… well again she dropped everything and rushed to Costco picking up enough blankets for the entire homeless population of new York.
One student who loved quite a distance from school was having difficulty commuting to school as well as having some personal problems… well she became Giggs' third child and moved into their home.
She has taken many of her weekends and free time to volunteer and help out and teach at the Stanwich School and Waterside schools…
Guggs is the absolute definition of "character" – character is what you do when no one is looking.  She is one of my best friends and I will miss her dearly."
-Ms. Margi Pasquet
Mr. Dale Verlingieri
"Mr. V in his own quiet way made me feel very welcome when I came here. He was a quiet source of support and has always been a great listener."
-Mrs. Heather Way
"Mr. Verlingieri is one of the most welcoming advisors I've ever had! From bringing in cookies to advisory meetings, to always listening and being understanding about issues in the advisees lives, Mr. Verlingieri proved to be unbelievably kind and easy to talk to!! I'm sad to see him go and GA will be at a loss without him."
Emily Thomas, IX, on behalf of her advisory
"It was a pleasure working with Mr. Verlingieri this year. His passion was evident, as he was eager for club meetings and always contributed to conversations, providing his opinions and ideas. He is such a kind man and will be dearly missed next year in GSA and in the GA community as well. He has brought such a positive attitude to GA through his teaching and mentoring. His students, coworkers, and friends here will all be sad to say goodbye!"
-Skylar Burdick, XI
Ms. Angela Tammaro
"When I think of GA athletics, I think of Ms. T and her impact. She might be remembered as the field hockey and lacrosse coach, but she started many of the sports we currently have at GA.
Ms. T was a founder of one of the leagues most of our sports participate in. She, along with other Athletic Directors in the area, began the FAA (Fairchester Athletic Association).
Her win/loss record, along with her inductions into Hall of Fames speak for themselves. However, her impact on the lives of those who worked with her and were coached by her are immeasurable."
-Ms. Jo Leiva
"I've worked with a lot of coaches over the past decade, but Ms. T stands out from the crowd. She's a different type of coach. I found that her coaching style worked especially well for me. She wasn't often soft, never really afraid to be tough, but I wouldn't have asked for anything else. To this day I am stronger because of her. To improve you must be aware of your weaknesses; she was always able to recognize mine and help me conquer them. From her I learned resilience, relentlessness, and to give 100%. To her, 110% didn't exist because you can't give more than your best. She was the one who taught me that playing together as a team is most important, often more important than winning. As a coach, she wasn't just focused on teaching field hockey, but life lessons. She changed my sense of the game and my surroundings, and that's something very hard, if not impossible, for a coach to do. She molded me into the player I am today and I can't thank her enough for that."
-Annie Leonard, XII