Senior Girls Speak Their Minds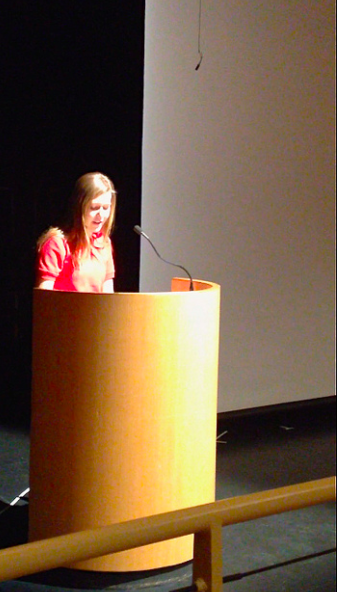 On February 11, 2014, Greenwich Academy's senior voice program recommenced. Serving as a platform for graduating students to impart final "words of wisdom" to the underclassmen, this annual program has been a GA tradition since the late 1990s when Ms. Sharon Dieztel, Upper School Head at the time, first began the program.
While not a graduation requirement as it is at Brunswick School, delivery of a senior voice is a rite of passage for many members of the senior class. In fact, this year, 45 out of the 81 members of the Class of 2014 are lined up to share their personal stories and experiences. Three to four girls will present every Tuesday during flex time until Commencement Day on May 22.
For Pam Petrick, Group XII, who delivered a moving senior voice on her fourteen years at GA, a senior voice was her opportunity to show the school who she really is.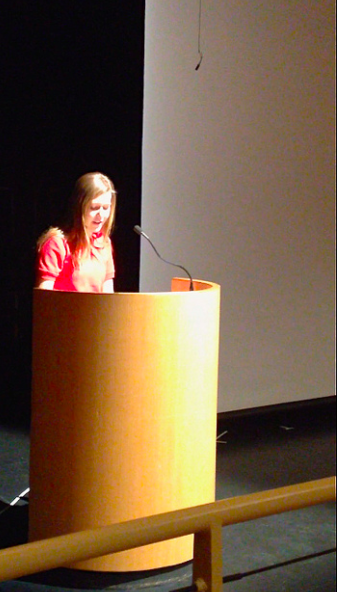 "There are people at our school who we see a lot – people in the plays, who give announcements, who sing and perform in dance. Every time those people are up on stage, I feel like the rest of the high school gets to know a little bit more about them. But there are also a lot of people, like me, who stay more in the background during high school. That's why I think senior voices are so great. You can get up on stage and show everyone a side of you that you want to show," Petrick said.
The weeks leading up to each senior's voice can be some of the most stressful of the year.
"I actually cried multiple times during the creative process – when thinking of ideas and actually writing them down. I was a little worried that the jokes were going to fall flat," Petrick said.
Another worry that commonly plagues seniors is that they simply do not have anything meaningful to impart to younger students or that they will freeze up on stage.
"Back when senior voices were mandatory, I've had to, literally, pull seniors away from the podium because they were so nervous," said Mrs. Laura Canning, twelfth grade Dean.
"The nature of Massey is just so elevated. It's not a stage where you can just casually step towards the podium – it really is more of a leap. And that can make it special when the kid really goes for it, but it is also that much more daunting," said Mr. Tom Sullivan, Upper School Head.
Nevertheless, according to this year's seniors, the anticipation is far worse than the delivery itself.
"What I realized while standing behind the podium, and had never really thought about before, is that the audience is on your side. People aren't recording you to play back the word you choked on, you're not at risk of losing your job if you mess up, and if you're slideshow didn't quite match up to your speech, it's okay," said Elizabeth Wolf, XII, who gave her senior voice about a run-in with stage fright during a piano recital.
In fact, the audience is – more often than not – empathetic with the seniors at the podium and eager to see them succeed.
Those seniors who have already stepped behind Massey's podium, say "take the plunge."
"It's hard to find people who regret giving a senior voice, but there are definitely those who wish they had given one," Petrick said. "If you have even the tiniest bit of interest, take a leap of faith and put yourself out there, because there's a lot for you to gain."
Whether you're a freshman up in the balconies or a senior opting out of a senior voice, keep those phones on silent, take your feet off the seat in front of you, and give these brave seniors your undivided attention.