GA's Parking Predicament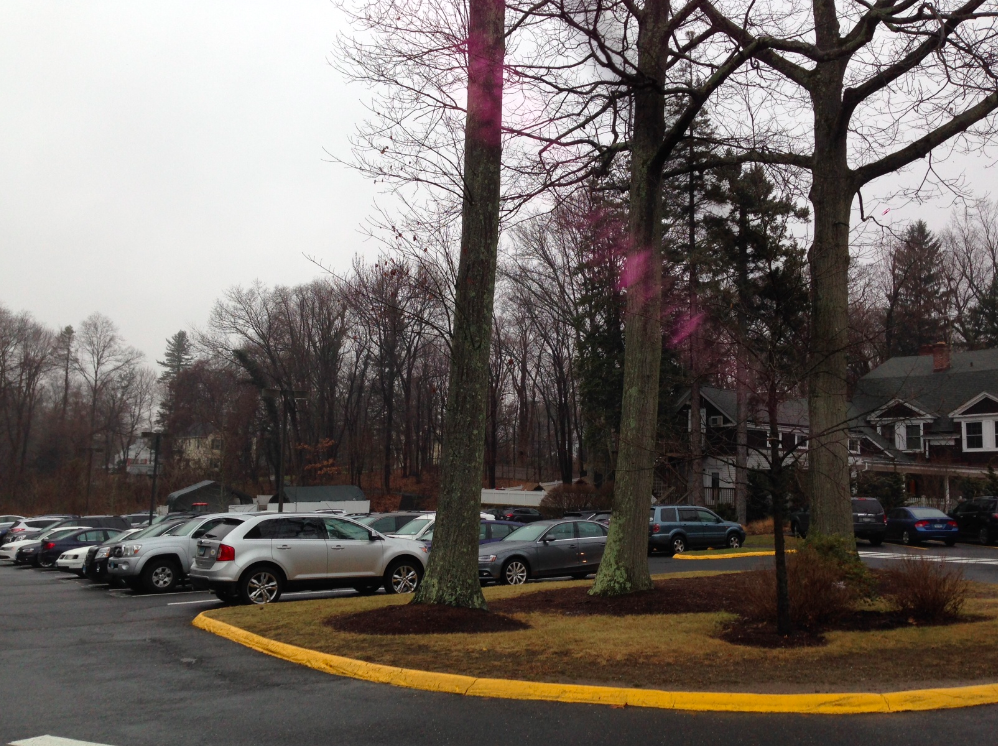 With holiday concerts, class coffees, and other events on campus, many students, faculty, and staff members at Greenwich Academy have experienced difficulty finding a parking spot before school. GA parking is particularly problematic at this time of year, but it continues to pose issues for the coming months, as limited visitor spaces mean that parking spaces meant for students and faculty are lost.
According to Mr. Scott Thacker, the Director of Facilities, "There are about one hundred total spaces in the upper lot. There are about thirty spaces with green lines designated for seniors. There are nine visitor spots. There are four handicap spaces. The remaining spaces are available to faculty/staff/seniors/visitors on a first-come-first-serve basis."
Even with additional student and faculty parking spaces in the Lower School lot, there is still not enough space for all of the licensed drivers, particularly those in the junior class, to park.
Originally, according to Mr. Tom Sullivan, Head of the Upper School, there were eight to ten parking spots available for juniors who lived far away or had other circumstances that made it necessary for them to drive themselves to school. However, as the size of the senior class rose from between 70 to 80 students to between 85 to 93 students, the ten spots that used to be reserved for needful juniors were lost.
Mr. Sullivan adds that the issue of parking space is part of a larger issue that exists at GA – the lack of school space. "The Upper School was meant to hold 250 students, but now holds 326," he said. Whenever school space is discussed, adding parking space is always on the agenda.
"Some ideas presented include building underground parking or a multi-level parking structure," said Mr. Thacker. However, "both options are not very cost-effective." There are multiple challenges that come with adding parking, one of which is regulations set in place by the Town of Greenwich Planning and Zoning Department. These regulations mandate that GA must "maintain a certain amount of green space on campus as a percentage of acreage." With little available space to put additional parking without taking over lawn space and impacting trees, finding viable space for extra parking is difficult.
"We also must consider that the campus is in a residential neighborhood and no one wants to live next to a parking lot; we want to be respectful to those who have chosen to live close to the school," Thacker said.
Despite the challenges that parking presents, GA has been able to deal with the lack of space. Juniors that have difficulty getting to school unless they are able to drive can ask Mrs. Reed Minor, the Junior Class Dean, for permission to park on school grounds.
Head of School Mrs. Molly King has been extremely generous and allows two to three juniors to park in her driveway every day. Usually, Mrs. Minor receives three requests a week to park in Mrs. King's driveway, and she makes sure that no juniors park in the Lower School lot.
In addition to on-campus parking, an increasing number of juniors have found off-campus parking. Catherine and Elizabeth Jones, both in Group XI, park at the Stanton House Inn. Even though it is a half-mile walk to school, being able to drive takes the stress of having to coordinate the sisters' completely different schedules off their mom.
Margaret Manley, XI, occasionally drives to school because she lives far away. Sometimes she parks at Mrs. King's house while other times she gets a ride from a senior.
"Parking at school gives me more freedom and flexibility during the day," she stated.
Mr. Sullivan concludes that, "The school is aware [parking] is a challenge and will seek to address it when the funds are available."