29 September 2013 [Concord, MA]
Dear Greenwich Academy,
Greetings from just a-ways north in Concord, Massachusetts.  I am writing from a small desk built into what I think is called a "gabled dormer window" in the student house we live in here on campus at Concord Academy.  (By "we" I mean "Ellie and I and our wacko cats.")  Like a lot of the student/faculty residences here on campus, our house is wicked old.  (By "wicked" I mean "very.")  In fact, our house was built in 1795 and used to be a tavern.  The front windows of our apartment overlook the Concord Public Library (which, in 1885, infamously banned Huck Finn from its shelves for dealing with a "series of circumstances that are certainly not elevating" ), and the lovely little window at which I am writing overlooks a big old maple tree.
I am doing much the same thing here as I was at GA: I teach four English classes (a section of ninth grade, two sections of tenth, and a junior/senior elective on Shakespeare) and help to coach the volleyball team (go Chameleons!).  Additionally, I'm helping to advise the student newspaper (The Centipede), and Ellie and I pull duty in the house/dorm one day a week.  In a whole lot of ways, it's a lot like GA and schools everywhere: a community getting together to learn, to think hard about the world, and to do good work.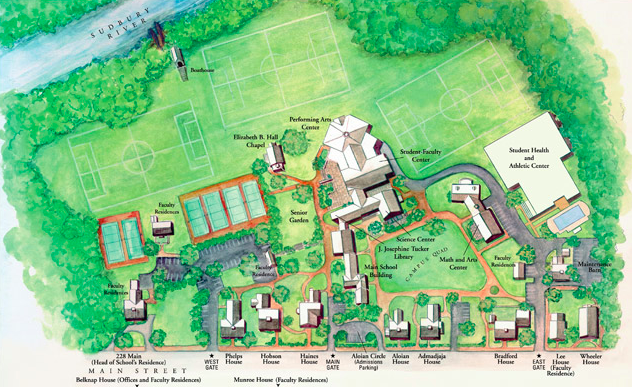 That said, if you're wondering about the differences between GA and CA, here are five I'd point to: 1) everyone here – teachers included – goes by his/her first name; 2) the school is coed; 3) there is no real dress code (for students or for teachers); 4) there are no AP classes; 5) no one here likes Macklemore (just kidding – they like Macklemore).
One of the things that's especially great about Concord is all of the cool historical stuff nearby.  More specifically: if you're into nineteenth century American literature or Revolutionary History, this place is off the hook.  Walden Pond is two miles from campus.  It's just about a ten minute walk to a) Ralph Waldo Emerson's house, b) the Old North Bridge, and c) Sleepy Hollow Cemetery (where, among others, Hawthorne, Emerson, and Thoreau are buried).
In the interest of full disclosure – and just so that I eat crow publicly: you should also probably know that I purchased an iPhone last week, which I have been keeping in a wool sock.  (But know, too, that I have not – and will not ever – download Snapchat.)
Peace always,
Nick