Citi Bike users have collectively ridden more than two million miles – eight times the distance to the moon – but not all the action happens while the bikes are in motion. The savviest New Yorkers have even found a use for the bike-share's docking stations: impromptu sidewalk spinning classes.
It all started in Paris. Vélib', Europe's largest bike-share, opened in 2007 with mixed results (nearly half of the bicycles were stolen within the first year). The technology came to China two years later, where not one of the 90,000 bikes has gone missing.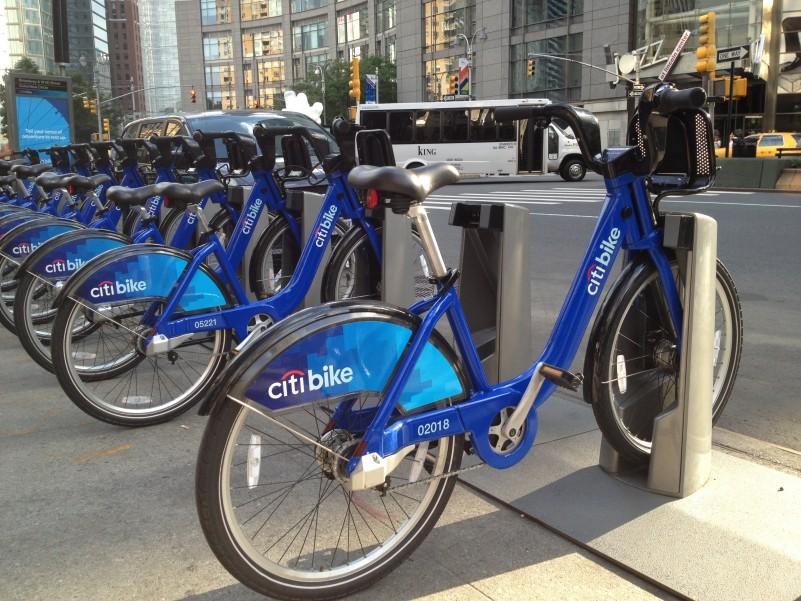 Now, New York is being put to the test with Citi Bike – the city's first public bike-share program.Mayor Michael Bloomberg, impressed with the Parisian Vélib', has long advocated for a citywide bike share. Development on the program officially began in 2011, and this May, 330 stations finally opened to the public. Citibank paid $41 million to be the program's leading sponsor (hence the name).
The Canadian-built bicycles are bright blue and have large handlebar baskets. Slightly heavy, the bikes are a bit cumbersome to maneuver. However the design, which includes three gears, LED lights, and hand brakes, is significantly better than most rentals.
The large tires are "great for riding over all sorts of road conditions, with fenders for rain," said Dani Simons, Citi Bike spokeswoman.
Anyone can purchase a yearly membership ($95) on the Citi Bike website. This annual account comes with an electronic key, which allow members to unlock bikes for 45-minutes at a time.
If you're not ready to commit, weekly ($25) and daily ($10) passes can be purchased with a credit card at station kiosks.
But the passes don't act like bike rentals – you still have to swap your bike at a station every half hour (weekly/daily customers are limited to 30 minute long rides). If you disregard the time restrictions, you can rack up large overtime fees fairly quickly.
For now, bike stations are only available in Manhattan below 59th street and in certain neighborhoods of Brooklyn. The good news is that within these boundaries, you can find one or two docks every few blocks. Once you pick up a bike, it can be dropped off at any one of the 330 stations.
The long, flat West Side Highway Bike Path is an especially good route for testing out your Citi Bike. It stretches the entire length of the highway, with designated bicycle-only lanes. In fact, one of these bike-share's most popular docking stations is located right on the highway.
"It's transportation where you need it, when you need it, on your terms," Simons said. "And someone else is taking care of the other details."