Missouri Abortion Laws Reflect National Trend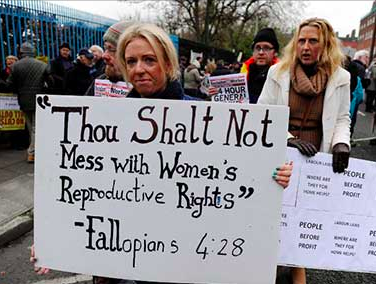 Abortion. A word, subject, a point of debate. It may make you feel very strongly or may not make you feel anything at all. Either way, the subject of women and their rights (regarding choices about whether or not to terminate a pregnancy, as well as what the choice means to them individually) is one that is constantly in the news.
Regardless of your opinion, you should know exactly what it means when you hear about it on the news. The recent law changes in Missouri are the perfect opportunity to get educated.
On September 10, the Missouri state legislature voted to overturn Democratic Governor Jay Nixon's veto of a law that required women to make an in-person appointment at Missouri's only abortion clinic and then return 72 hours later to have the procedure.
Anti-abortion activists say that giving women more time before the operation will cause them to rethink the decision and therefore lead to fewer terminated pregnancies.
Meanwhile, pro-choice advocates say that this protocol insults women and challenges their right to make their own decisions about their health care, independent of outside influences.
Another problem is that this change in legislation will likely cause women to cross state lines in order to get an abortion more quickly. This is because the trip to the state's only abortion clinic, in St. Louis, may be too expensive for women who have to travel to the city and then pay for a place to stay as they await the appointment and the actual procedure, three days later.
One study, headed by Sarah Roberts, assistant professor at the University of California, San Francisco School of Medicine, has some startling insight into how this same waiting period affected women in Utah.
It revealed that the average wait time between the initial appointment and the actual procedure was eight days, not three, because of the need to arrange things like transportation, child care, and a place to stay.
It was also found that the average additional costs (because of the waiting period) were around $50 dollars, which is 2.5% of the average woman's income in Utah.
While there is no way to know how many women will travel out of state in order to gain access to care, larger numbers are predicted in Missouri based on the preceding trends from states with similarly harsh abortion laws.
One provider in Maryland, whose clinic was flooded with out of state patients after Pennsylvania's laws prevented women from easy access to care, posed the question, "As long as there are clinics, you could make the argument that there is access, but the question is, how Herculean of an effort does one have to put forth in order to gain that access?"
Julie Burkhart runs a clinic in Wichita, Kansas (less than 500 miles from St. Louis and significantly closer for anyone who lives in western Missouri).
She said, "we definitely know that this law is coming. We certainly expect that this law is going to be a hardship for women and it's clear that this law is meant to do nothing but block access when it comes to abortion care."
Similar situations are playing out across the country: state legislators are creating restrictive laws surrounding the abortion process, driving women out of state in order to get the procedure.
Last year when the change in legislature was announced, many suggested that this may just be Missouri's way of making abortion care so inaccessible in the state that it disappears completely.
An identical situation may also be unfolding in Tennessee where voters will decide, in less than six weeks, whether or not Republican Senator Mae Beavers will be able to require a 48-hour waiting period for abortions in the state, which is one of the last states in the region where women are actually still allowed to end pregnancy if they so choose.
According to the Center for Disease Control and Prevention, one in four abortions performed in Tennessee are for women from another state, even more proof that this is a growing problem across the region and the country.
A small victory was won in Texas on October 14, when the Supreme Court ruled against two parts of a 2013 state package proposed to restrict abortions on an extreme scale.
While this issue will likely go back to court because the state is so divided, the ruling means that more clinics will soon be able to offer safe and legal abortions, which should help prevent women from seeking care in neighboring states.
But this most recent ruling still only leaves the state with eight abortion clinics in total, all clustered in metropolitan areas, as opposed to the forty-one that existed before the state package.