In January, over 200 Greenwich Academy girls participated in a series of anonymous surveys released by CSBGL (The Center for Study of Boys' and Girls' Lives).
The group's overarching theme this year is Gaining Confidence. Each of CSBGL's six sections at GA (made up of junior and senior girls) has spent the year developing and investigating its own topic during weekly meetings.
Last month's surveys, titled "Cell Phone" "Expectations" and "Overthinking," were released by three of the groups as a way of researching their topic's effect at GA.
"We plan to collect data about GA in some area and look at trends," said Clare Ryan, XI, a member of CSBGL, "and then either affect a change based on it or bring something to everyone's attention."
One survey, released on January 13, examined the impact of "Expectations" on GA girls, whether produced by family, friends, the media, finances, or athletics.
Ninety seven percent of survey participants claimed to feel pressure at school—clearly a ubiquitous issue. "We have found that many students feel pressure to be successful," said CSBGL member Jordyn Young, XI.
Interestingly, however, when asked who imposes the "standard you have to live up to," 84 percent of respondents answered "Me." One hundred twenty-five girls admitted that losing sleep was necessary to achieve this standard.
Another question asked girls to rank all the areas in which they feel pressure. The top three choices for the majority of participants were academics, appearance, and social life. "We hope to use this information to help GA students avoid excessive pressure and stress," said Young.
A second survey assessed the ways in which GA girls tend to over-think.
"We are hoping that with the research we will be able to help girls at GA think about their lives with a different perspective and with different priorities," said Caroline Zhao, XI, a member of the section that released the "Over-thinking" questionnaire.
Seventy seven percent of respondents answered that they over-think future actions, and eighty two percent that they over-thinking completed actions. For the majority of respondents, boys and "social interactions in person" were the leading causes of over-thinking.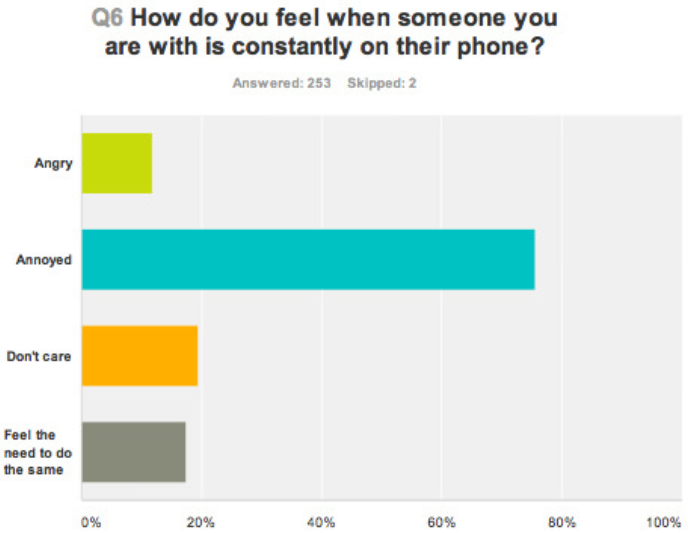 The final CSBGL survey of the week studied cell phone usage at Greenwich Academy. Ninety eight percent of the survey participants have iPhones, and 90 percent check phones even when "you know you don't have any messages."
Additionally, ninety percent of those surveyed have Instagram, Snapchat, and Facebook on their phones. And, when sitting in the hallway alone, the majority will check their phone rather than study, find a friend to talk with, eat, or read.
However, despite the prevalence of cellphones, the majority of respondents felt that going through the school day without a phone would be "manageable" and eighty percent prefer talking in person to other forms of communication.
Still, seventy eight percent would prefer not to have a cell phone-free zone at school.
"Although a lot of the results seem obvious, sometimes you come across really unexpected ones," said Allie Primak, XI, a member of CSBGL. "You don't make much of checking your phone constantly or imposing standards on yourself until you are forced to think about it while evaluating yourself through a survey."