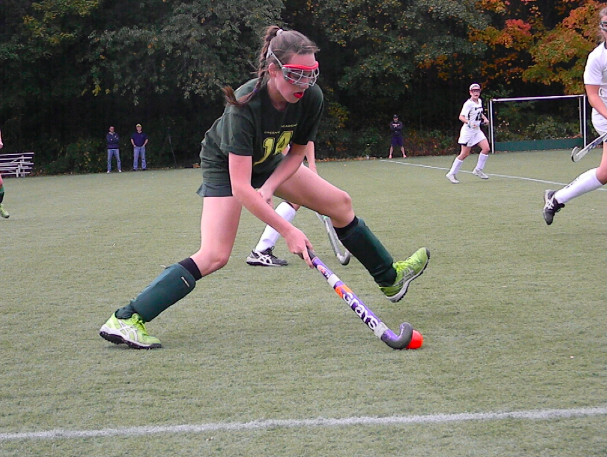 Saturday, October 19 marked Greenwich Academy's first official "Fall Festival" – a homecoming weekend of our very own.
At a girls' school like GA, traditional homecoming – with its football games and bonfires – can feel irrelevant. While many enjoy the GA pep rally, nothing brings students and alumni together quite like a football game.
Thus while Brunswick celebrates homecoming as a reunion weekend, inviting alumni back to campus and showcasing its athletic events, GA does not invite alumni back until its reunion weekend in the spring.
But GA is an athletic powerhouse and has athletic events of its own to showcase — so why not celebrate our own skills on the field just as much as schools with football teams?  In past years, GA has followed along with Brunswick's homecoming by advertising big home games, bake sales, and pep rallies.
This year, the GA athletic department dubbed Saturday, October 19, the weekend before Brunswick's homecoming, as the "Fall Festival." It was a day when every Varsity team had a home game.
Students and teachers from all divisions were encouraged to come out and support the teams. "It was great to see everyone coming together," said Jo Leiva, Head Trainer.
Athletic Director Ms. Martha Brousseau hopes that next year the younger kids will be more involved in the festivities and play games during halftime. She feels that the Fall Festival should really bring all divisions together to support GA athletics.
While the entire day was a huge success, one moment in particular stood out. Varsity Volleyball beat Taft for the first time in history.
"Certainly the best energy of the day was at the end of the Volleyball game," said Ms. Brousseau.
"The energy was great because it was a close game, the soccer team ran in at the last few minutes, the field hockey team stuck around after their game, so that to me was the epitome of spirit."
Kennedy Woods, Group XI, a member of the Varsity Volleyball team, felt incredible when everyone came out to support her team during the last few minutes of one of the most important games of the season.
"Volleyball isn't a popular sport at GA, so when everyone rushed onto the court at the end, when we won– it was the best feeling in the world," Woods said.
Many members of the team said they don't remember this many people ever coming out to support one of their games.
"It was really nice because all of the teams got the support they really deserve…I really hope this becomes an annual tradition because just a really great afternoon," said Katrina Kraus, Group XI, a member of the Varsity Field Hockey team.
Julie Mayberry, Group XI, Vice President of the junior class adds, "I think next year our goal would be to get even more kids to come out to support the fall teams, because while we did have a great turnout we can always have more."
Stats from Fall Festival – Varsity Sports
Varsity Soccer vs. Kent – 4-0: Win
Varsity Field Hockey vs. Convent of the Sacred Heart- 4-1: Win
Varsity Volleyball vs. Taft School- 3-1: Win