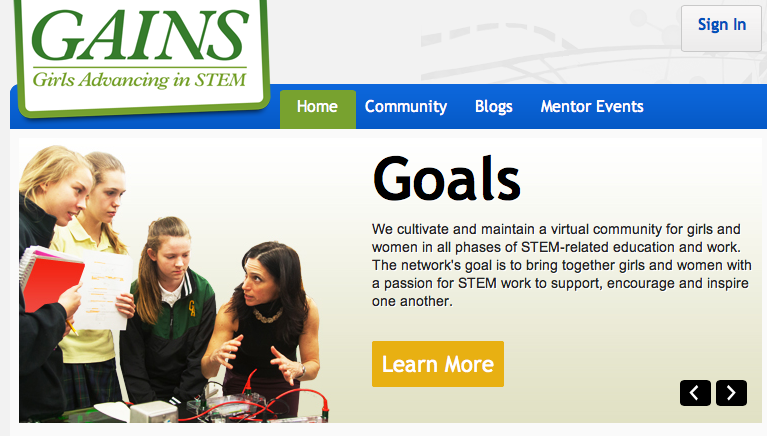 As you look around for changes at Greenwich Academy, be sure to check out the GAINS network. Mrs. Ann Decker, Director of the Duff Center for STEM initiatives, re-launched the website this summer. The revamped website is more interactive and user-friendly, and the new name, Girls Advancing In STEM, accommodates the expanding members of the GAINS community outside of GA.
The GAINS network provides a source for GA girls to reach out to peers and female professionals in STEM related fields. The network allows all members, living in places as close at Greenwich to as far as California, to share information about areas of science that intrigue them or experiences in the STEM world such as summer internships.
"I want to connect girls who are interested in STEM with each other and also with older girls and women," Decker states.
One step Mrs. Decker has taken to reach this goal is inviting five all-girls schools, Marymount, Castilleja, Hockaday, Harpeth Hall, and Hathaway Brown, to join the network. In addition to those written by GA students, blogs from students attending two of the five member schools can be found on the GAINS website.
Without female mentors who can offer inspiration and guidance to girls, the network would not be complete. "Most women who stay in tech fields can point to a mentor and/or person of influence who 'showed' them it was possible," notes Decker. Two notable mentors who will be featured on the website are Dr. Maria Klawe, President of Harvey Mudd College, and Mrs. Alyse Stofer, President of the Society of Women Engineers. Students will be able to reach out to these mentors via a discussion platform on the network.
Currently, there are 134 members on the website, and hopefully this number will continue to increase throughout the year. If you do not have a GAINS account and would like to create one, all you need to do is email Mrs. Decker.